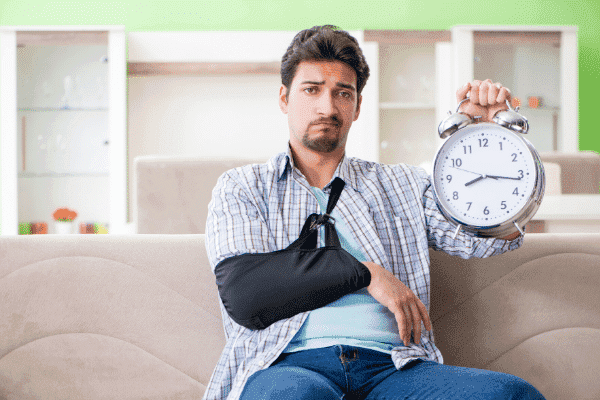 Don't Lose Your Benefits - Time is Limited When You File a Workers' Comp Claim
In Workers' Compensation, there is no margin for hesitation.
By law, your employer is required to pay for Workers' Compensation benefits if you get hurt on the job whether your injury is caused by a single event or a repeated exposure — the State of California recognizes this as Cumulative Trauma, such as the carpal tunnel syndrome, tendinitis, or hearing loss. However, timing is vital if you want to access those benefits, which include lost wages, medical care, Temporary Disability Benefits, Permanent Disability Benefits, Supplemental Job Displacement Benefits, and Death Benefits.
In California, there are two main steps to reporting a work-related injury: informing your employer of the injury and then filing a Workers' Compensation claim. The following are the time constraints involved in both processes:
TIME LIMITS TO INFORM YOUR EMPLOYER
As a rule of thumb: Report your injury as soon as possible to your supervisor, employer, or someone else in management to avoid problems and delays in receiving benefits, including medical care. According to the California Department of Industrial Relations, if your employer does not learn about your injury within 30 days, you could lose your right to receive Workers' Compensation benefits.
If the injury has developed gradually and occurred over time, what is known as a Cumulative Trauma, the timeframe can become less clear. If this is the case, then you need to report your injury within 30 days of realizing that your injury was due to work.
If your injury requires emergency treatment, do not waste time and call 911 or go to an emergency room; inform the medical staff that your injury is job-related. Your employer must make sure that you have access to emergency treatment right away and may tell you where to go for treatment. You have the right to receive up to $10,000 in medical care under treatment guidelines while your employer decides whether to accept or deny your claim.
TIME LIMITS TO FILE YOUR DWC-1 CLAIM FORM
Filing a DWC-1 Claim Form officially begins the Workers' Compensation claim process. If you have not completed a form, one can be completed by your attorney. You have 1 year from the date of the injury to file your DWC-1 Claim form. You simply need to hand a completed form to your employer, and he/she will submit it to the insurance company within 5 days.
The DWC-1 Claim Form should be given or mailed to you by your employer within one working day after you report your injury or illness — or your employer learns about it. If not, get one from a California Workers' Compensation Information & Assistance officer, calling at 1-800-736-7401.
Although you have an entire year to submit your claim, it is in your best interest to file sooner rather than later. The most time-efficient way of filling for Workers' Compensation is to use your completed DWC-1 form as your written notice in the initial 30-day timeframe. Once filed, the case will remain open until it is either settled or denied.
Do not worry if you cannot complete a claim form due to incapacity or hospitalization, your employer's knowledge of your injury is considered sufficient notice to start the process.
For more information on filing a DWC-1 form, you can read our blog When & How You Should File a DWC-1 Form.
WHAT WILL HAPPEN IF I REPORT THE CLAIM LATE?
If you fail to report the injury to your employer within 30 days, then you do risk not being eligible for Workers' Compensation benefits. Regardless, according to California Labor Code Section 5402, if you can prove that your employer should have known about the injury, then you are still eligible.
For example, you are still eligible for compensation if you have complained to your employer about physical pain from a work activity/duty. Also, you are still eligible if another employee has informed your employer that you had a work-related accident.
If you failed to report your claim within the timeframe, contact us at 888-740-6434 or schedule an appointment here. We may still be able to help you and will work hard to develop your claim, argue its merits, and fight to get the compensation that you deserve.
Pacific Workers', The Lawyers for Injured Workers is Northern California's Premier Workers' Compensation and Personal Injury Law Firm. They represent First Responders, Health Care Workers, Construction Workers, Delivery Workers, Warehouse Workers, and the other hard-working people that keep our community moving in their Fight for Justice against the Insurance Companies.
With over 250+ Five Star Reviews, an incredible staff of caring, well-trained caring, advanced technology for superior client communication, a track record of an over 96% win rate and giving back to our community through the Pacific Workers' Foundation, it is easy to see why Pacific Workers' is the go-to law firm for all injured workers in Northern California. Offices in Oakland, Concord, Stockton, and Sacramento.
If you or a loved one needs our help or just has a question, give us a call. We are here to serve!