Construction Accident Attorney in Oakland
Put 130+ Years of Experience in Your Corner
Everyone has the right to a safe work environment, even if the work you do is somewhat riskier than most. Between the heavy machinery, ever-changing work environment, and potentially dangerous tools, construction work has no end of safety threats, which makes it all the more important that you protect yourself, physically and legally. Our qualified Oakland construction accident lawyers want to help you with your workers' compensation claim and see to it that you receive fair compensation.
If you are mourning the loss of a loved one who was injured while working construction, we can help you with your wrongful death case each step of the way. With over 130 years of legal experience, our construction injury attorney in Oakland have the skill, familiarity and drive to help you seek justice for the pain and damage you've suffered.
Are you a construction worker who was injured on the job?
Call us at (888) 740-6434! We are located in Oakland and Concord.
You Are Eligible for Benefits Under Workers' Comp
Every business is required to have workers' compensation insurance to provide essential benefits to employees, should they be injured on the job. If you were injured while working, you should have access to these benefits if you file a claim.
Workers' Compensation benefits can include:
Medical care
Compensation for lost wages
Temporary or permanent disability
Death benefits
Your workers' comp benefits are typically "no-fault," meaning they are applicable regardless of whether the negligence that caused the injury was caused by the employee or employer. By filing a workers' compensation claim you are not starting a lawsuit, you are requesting the benefits that are due to you. Typically, this is the most beneficial course to take.
Third Party Liability
Unfortunately, workers' compensation does not always cover all of the expenses resulting from a work injury. For example, it may not include payment for wages lost while out of work, or may only pay part of the medical bill or drug costs. Perhaps there were other parties responsible for your injuries, such as a general or subcontractor, the construction manager, architect, installer of site equipment or manufacturer of the site tools. If so, you may be able to pursue compensation by filing a lawsuit against a third party that was also responsible for your injury.
Construction Worker Injuries
The Occupational Safety and Health Administration, under the Department of Labor, has a set of safety standards every employer must follow. If the negligence of your site manager, subcontractor, or another party relating to your construction site, somehow caused your injury, you may have a case against them.
Common construction site injuries include:
Falls
Repetitive strain
Electrocutions
Burns
Eye injuries
Broken bones
Lifting injuries
Occupational diseases

California Construction Accident Statistics
Data proves that the construction industry is one of the most dangerous industries for workers. In fact, according to a study from the California Department of Industrial Relations Division of Occupational Safety and Health, the construction industry has the second highest number of worker fatalities in the state of California.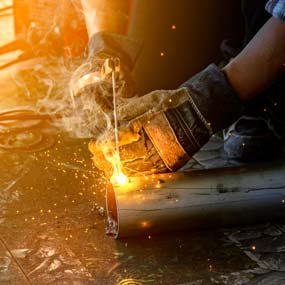 The report, which analyzed data collected over an 18-year period between 1999 and 2017, also revealed that:
Overall, work-related fatalities have declined, with fewer than 400 workers dying in 2017 as opposed to approximately 600 in 1999
However, there were still 376 work-related deaths in 2017, with 69 of those deaths occurring within the construction industry
Construction accident fatalities accounted for 16% of all work-related fatalities in California in the time period ranging from 2013 to 2017 with a total of 309 deaths
In 2017, 32 construction-related fatalities resulted from slips, trips, falls, and transportation incidents
The average fatality rate in the California construction industry during the time period between 2013 and 2017 was 5.8 for every 100,000 workers
Additional construction accident statistics:
According to OSHA, one in five work-related deaths involves a construction industry worker
In 2018, construction worker fatalities accounted for 47% of all work-related fatalities in the U.S.
Approximately 1 in 10 construction workers in the U.S. will be injured on the job
Get the Compensation You Deserve, Today
Filing claims and dealing with third-party lawsuits can be difficult to handle while you are trying to heal from an injury or coping with the loss of a loved one. Our Oakland construction injury lawyers at Pacific Workers', The Lawyers for Injured Workers understand how overwhelming workers' comp may seem, which is why we are dedicated to fighting for your rights on your behalf. Trust our experienced legal team to handle the paperwork and legal issues while you concentrate on recuperating.
Don't wait to get help! Contact a construction accident attorney in Oakland to schedule a free consultation today!
Frequently Asked Questions
Q:

How do I know if my employer has workers' compensation?

A:California law requires all employers to have workers' comp insurance, even if they only have one employee. This includes the construction industry and general contractors. Your employer should provide information about how to properly report a construction site injury and file a workers' compensation claim. If you are experiencing any resistance from your employer about filing a workers' comp claim, speak with a construction accident attorney as soon as possible to ensure your rights are protected.

Q:

How much does a construction accident lawyer cost?

A:Regardless of whether or not your construction accident involves workers' comp or a third-party injury lawsuit, you will pay no upfront legal fees when you hire an attorney in California. Instead, your construction accident lawyer will take a percentage of the final settlement or verdict awarded for your case. The average contingency fee for workers comp is between 9% and 12%, while personal injury contingency fees are usually around 30%. However, each lawyer sets their own contingency fee which may not match these figures. Please discuss the details of the contingency fee with your attorney.

Q:

Can I be fired for hiring a construction accident attorney?

A:It is illegal for an employer in California to retaliate against an employee for filing a work injury claim. Unfortunately, workers' compensation does not provide complete immunity from termination caused by downsizing, work performance, or at-will employment. However, if you are laid off while on workers' comp, rest assured that your benefits are protected, even if your position was terminated. If you suspect your termination was prejudiced because you filed for workers' comp, contact an experienced attorney right away!
Thank you for being so kind and completely sympathetic to my case! - Jazzie D.

They took care of me! - Gabi O.

Pacific Workers' Comp is one of the best places to get help from when you need help with an injury from work! - Lamar B.

Bilal is very professional, caring and committed to his clients! - Guy H.

The most down to earth team I have ever met! - Nekealla C.

PWC has provided me with exceptional care! - Jaaziel B.
Andy, A Stabbing Victim, Speaks on Her Experience With Us