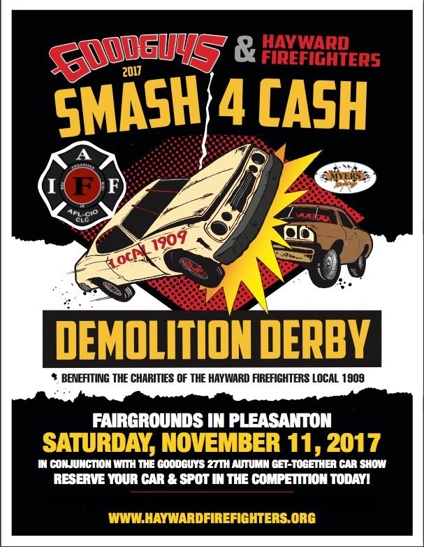 Pacific Workers' Compensation is proud to support our local first responders. This month, the Pacific Workers' Community Foundation will sponsor the first ever "Smash 4 Cash" Demolition Derby, benefiting the charities of Hayward Firefighters Local 1909. The Hayward Firefighters will put the money towards helping with North Bay Fire recovery.
The derby will take place on Saturday, November 11th, at the Autumn Get-Together Car Show at the Alameda County Fairgrounds, and your ticket also gets you in to see the car show. Purchase your tickets in advance through the Hayward Firefighters to save money and to support fire recovery. Come watch the Pacific Workers' Compensation car and stop by our table to say hello! We can't wait to see you there.
2017 has been a great year for our Foundation so far. We've worked with SF PAL, Fishes & Loaves, and Oakland Fire, and of course, our wonderful clients. We're thankful for this latest opportunity to support our community and our first responders, who do so much for the East Bay, whether they're at work saving lives or spending their free time fundraising.
Remember, if you attend the Demolition Derby, stop by our table and say hello. We'll be handing out merchandise and answering any questions you might have about California Workers' Compensation.