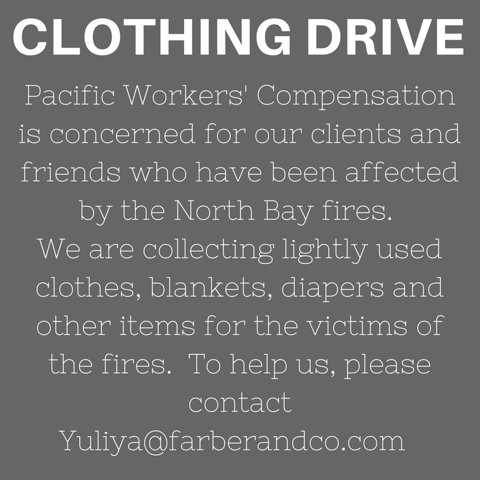 What Can You Do to Help Victims of the North Bay Fires?
Please join us in helping our community begin the long process of recovering from the devastating North Bay fires. We'll be accepting donations at our office and delivering them to the North Bay in time for the holiday season. Items you can donate include:
New & lightly-used clothing for kids & adults (warm clothes and outerwear are particularly needed)
New socks & undergarments
Blankets & bedding
Diapers & baby supplies
Personal hygiene products
Pet supplies & pet food
Toys
Household items
Non-perishable food
If you'd prefer to make a financial contribution to aid with recovery, here are some places you can donate: The Sonoma County Resilience Fund, the City of Santa Rosa's YouCaring campaign, one of these Go Fund Me pages, the Redwood Empire Food Bank, Sonoma & Napa County Humane Societies.
It's more important than ever that we come together as a community to take care of those who have lost everything. If you cannot afford to donate money or goods, there are still things you can do, such as volunteering at North Bay shelters, preparing meals for the heroic firefighters battling the blazes, or taking in the pets of displaced families. If you need help figuring out a way to contribute, please reach out, and we'll find something you can do.