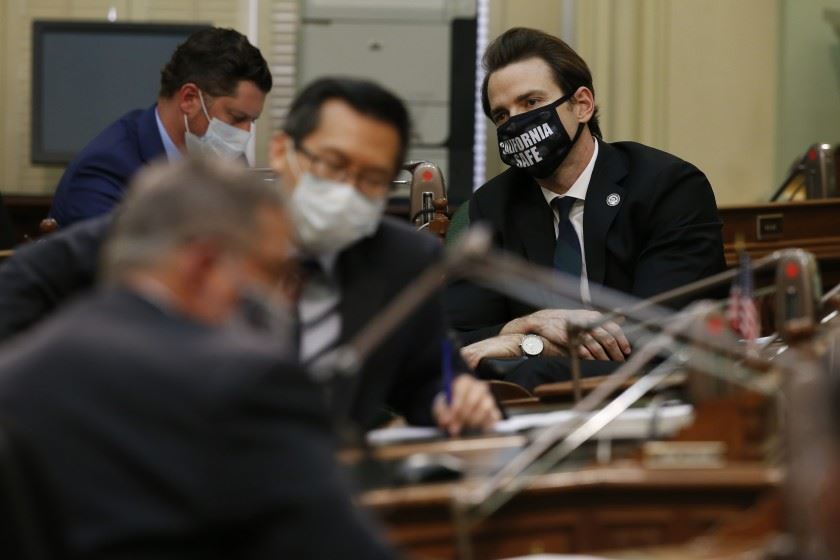 SACRAMENTO —
California lawmakers recently approved new COVID-19 sick leave for food workers, added sweeping labor protections for laid-off hotel staff and made it easier for essential employees to file for workers' compensation.
Despite the fact that CA State Capitol building had to be shuttered twice this year due to the coronavirus, shortening the time lawmakers had to craft and debate proposals. At least three lawmakers have been diagnosed with COVID-19 since July, and in the final days of session, 10 Republicans were forced to quarantine and vote remotely. The bills made their way through the Capitol.
Gov. Gavin Newsom, will have until Sept. 30 to sign or veto the measures.
"We had to pivot quickly despite those disruptions to deal with the crisis this year," said Sen. Richard Pan, a pediatrician who chairs the Senate's Health Committee. "It was a very challenging and unusual session, but I think we did what was needed."
One of the bills discussed and now in process is Assembly Bill 3216, a proposal pushed by unions that would create significant labor protections for hotel, janitorial, airport, event center and building maintenance workers.
The bill requires employers in those industries to first rehire workers they laid off during a state of emergency, including in cases in which a new owner takes over a business.
The Legislature also passed a budget trailer bill, that would require food-sector companies, healthcare providers and emergency responders with more than 500 employees to provide two weeks of supplemental paid sick leave for full-time workers who are unable to work after being exposed to the coronavirus or contracting COVID-19. AB 1867, which expires Dec. 31, is similar to an executive order Newsom signed earlier this year.
The Legislature passed SB 1159, which would make it easier for police, firefighters and other essential employees who contract COVID-19 on the job to be covered under the state's workers' compensation program. The bill also eases a requirement that workers with COVID-19 prove they contracted the illness while on the job in cases in which there is an outbreak at the employee's worksite.
Newsom has previously said he plans to work "hand in glove" with the Legislature to expand COVID-19 workplace protections, including loosening workers' compensation claim requirements.
In May, Newsom signed an executive order easing workers' compensation restrictions for essential workers, but those changes relaxed the burden of proof only for workers with COVID-19 before July 5. SB 1159 codifies the executive order and extends the time frame for the changes until 2023.
The Legislature also approved AB 276, which would raise the amount Californians can borrow penalty-free from their employer-sponsored retirement accounts to $100,000 from $50,000 if they have been financially impacted by the pandemic.
Another proposal approved by the Legislature is AB 2537, this would require general acute care hospitals to stockpile three months of protective equipment supplies by April 1, 2021 or face a fine of up to $25,000. AB 2043 is also headed to Newsom and would require the state's Division of Occupational Safety and Health to compile and publicly report investigations into agricultural workplace conditions related to COVID-19, as well as illnesses from the virus.
Lawmakers approved SB 275, which calls for the state to build a supply of medical equipment. Hospitals and other healthcare employers would be required to assemble a 45-day supply by June 1, 2023.
SB275 was watered down in recent days, reducing the stockpile from a 90-day supply to half that amount for healthcare employers, while leaving the state's own threshold undefined. Recent amendments require the state to begin building its stockpile only after money is set aside to do so.
If you are in this industry and have been affected by Covid-19, you can call today at 888-740-6434 or email EssentialWorker@pacificworkers.com.
Pacific Workers', The Lawyers for Injured Workers is Northern California's Premier Workers' Compensation Applicant firm. We represent First Responders, Health Care Workers, Construction Workers, Retail Workers, Warehouse Workers, Delivery Drivers, and the other hard-working people that keep our community moving in their Fight for Justice against the Insurance Companies.
With over 250+ Five Star Reviews, an incredible staff of caring, well-trained and with advanced technology for superior client communication, a track record of an over 96% win rate and giving back to our community through the Pacific Workers' Foundation, it is easy to see why Pacific Workers' is the go-to law firm for all injured workers in Northern California.
If you or a loved one needs our help or just has a question, give us a call. We are here to serve.