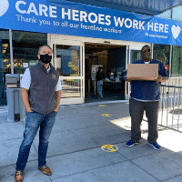 #5000Masks: Pacific Workers' is Giving 5000 Reusable Masks to the Community
In times of need, solidarity can come in the shape of a mask. Pacific Workers', the Lawyers for Injured Workers has been handing out masks throughout the community.
Pacific Workers' and its' charitable arm, the Pacific Workers' Foundation has launched #5000masks to get reusable masks into the community.
Since the last week of April, clients, homeless shelters, food pantries, food banks, free clinics, and non-profit organizations all over the Bay Area in Oakland, Stockton, Sacramento, and Concord are receiving reusable masks as they need for their communities.
The program started with a few hundred face shields which founder Eric Farber stumbled across online.
"We were on a vendor's website and saw they had medical grade shields available. I knew PPE (protective personal equipment) was rare so I bought them for our partners over at SEIU-UHW and the Oakland 55 Firefighters Union." Their t-shirt vendor pivoted their business and started making face masks. So they started ordering. We knew several of our current and former clients were in need, so we just started calling and offering them masks. We did not realize when we started just how great the need was.
Pacific Workers' clients are some of the most vulnerable, so they began buying masks and offering them to clients and former and sending them out. Now, more than 100 clients and former clients have been sent the triple-ply cotton masks for themselves and their families. Now, they want to get at least 5000 into the community.
Paul Boeder, an Intake Specialist for the Pacific Workers' Oakland office, is coordinating the donations for the clients. He considers this initiative as an enriching experience because it's a way to give back to the community.
"People are going through a lot, so whatever we can do to help them out and assist them with some protective gear, it's a great thing to do", he said. According to Boeder, it also allowed them to re-connect with people whose lives were affected by the virus. Some of them are having trouble even seeing their doctors and schedule appointments because non-essential appointments were postponed or canceled. "People need masks and assistance; we are just checking in to see if we can assist them in any way during this time."
Allison Santiago, a Client Services Specialist for Pacific Workers' in Oakland, is now in charge of the donations to community organizations in Oakland, Concord, Stockton, and Sacramento where Pacific Workers' has offices. She is proud of this company's effort. "We are using our resources to help our community in this time of need. We happen to be blessed enough to get some masks and we are donating them. It is something from the heart", Santiago said.
The mission is not over, Santiago added, so they will keep sending masks to those who need them. Homeless shelters, community non-profits and food banks are the main targets. Anywhere there are vulnerable people that we might be able to help.
Pacific Workers' goal is to get at least 5000 masks into the communities they serve. They are calling the program #5000masks
"It just feels good to know that we can help." Santiago said.
To get on the donation list, organizations can contact us by email at allison@pacificworkers.com.
Pacific Workers', The Lawyers for Injured Workers is Northern California's Premier Workers' Compensation Applicant firm. We represent First Responders, Health Care Workers, Construction Workers, Retail Workers, Warehouse Workers, Delivery Drivers and the other hard-working people that keep our community moving in their Fight for Justice against the Insurance Companies.
With over 250+ Five Star Reviews, an incredible staff of caring, well-trained, advanced technology for superior client communication, a track record of an over 98% win rate and giving back to our community through the Pacific Workers' Foundation, it is easy to see why Pacific Workers' is the go-to law firm for all injured workers in Northern California. Offices in Oakland, Concord, Stockton and Sacramento.
If you or a loved one needs our help or just has a question, give us a call 800-606-6999. We are here for you!