Pacific Workers' Compensation Winner of 2017 Law Firm 500 Award
Named 40th Fastest Growing Law Firm in the United States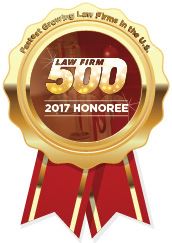 Over the past 3-years, our team at Pacific Workers' Compensation has been dedicated to providing excellence in customer service and aggressive legal representation, resulting in many happy clients. Our commitment and focus has taken us on a fabulous journey of growth – personally and for our business. We've gone from four employees to over twenty-five and have recovered tens of millions of dollars for our clients.
We are pleased to announce that our law firm has been named a 2017 Law Firm 500 Honoree, awarded to the fastest growing law firms in the US. We were nominated for our growth, operational excellence, and commitment to client service.
Thank you so much to our loyal clients. Pacific Workers' Compensation founder, Eric Farber commented, "It is all about our clients. Workers' Compensation lawyers never understood customer service. We wanted to change the industry. We work on our customer service everyday and it's nice to be recognized for it. We still have a long way to go."
We believe that all injured workers deserve the highest level of representation and customer service. The Law Firm 500 Award is an honor for our firm to receive and a tribute to our team. We could not have achieved any of this without our devoted team -- from the founding staff members, to our newest additions. Each member of the Pacific Workers' Compensation family has, in their own way, has contributed to making this possible.
As we continue to grow we encourage you to follow our progress, and stay in touch! You can view the full list of Law Firm 500 Honoree firms here: https://lawfirm500.com/