At Pacific Workers' Compensation Law Center, we receive (and send) a lot of mail. We're a Workers' Compensation law firm; it's natural. However, not all mail is created equal. Recently, we received a letter that stood out from the stack.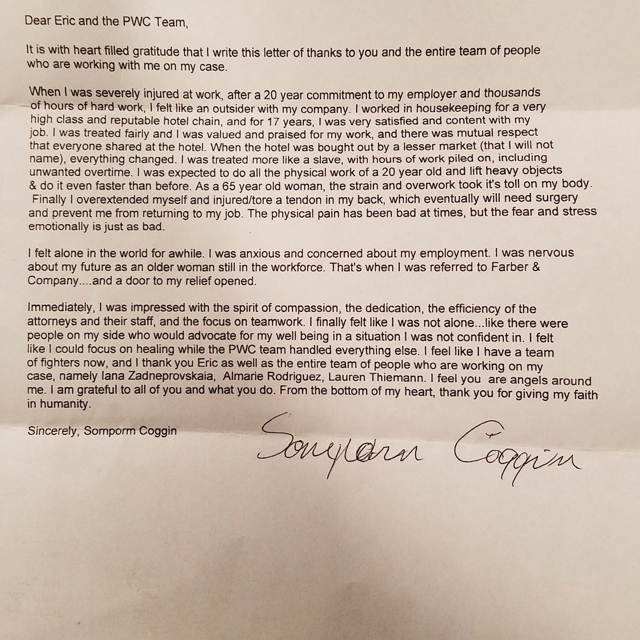 If you're having a hard time reading the text in the photo, here is what it says:
"Dear Eric and the PWC Team,
It is with heart filled gratitude that I write this letter of thanks to you and the entire team of people who are working with me on my case.
When I was severely injured at work, after a 20 year commitment to my employer and thousands of hours of hard work, I felt like an outsider with my company. I worked in housekeeping for a very high class and reputable hotel chain, and for 17 years, I was very satisfied and content with my job. I was treated fairly and I was valued and praised for my work, and there was mutual respect that everyone shared at the hotel. When the hotel was bought out by a lesser marketing (that I will not name), everything changed. I was treated more like a slave, with hours of work piled on, including unwanted overtime. I was expected to do all the physical work of a 20 year old and lift heavy objects and do it even faster than before. As a 65 year old woman, the strain and overwork took its toll on my body. Finally, I overextended myself and injured/tore a tendon in my back, which will eventually need surgery and prevent me from returning to my job. The physical pain has been bad at times, but the fear and stress emotionally is just as bad.
I felt alone in the world for a while. I was anxious and concerned about my employment. I was nervous about my future as an older woman still in the workforce. That's when I was referred to Farber & Company...and a door to my relief opened.
Immediately, I was impressed with the spirit of compassion, the dedication, the efficiency of the attorneys and their staff, and the focus on teamwork. I finally felt like I was not alone...like there were people on my side who would advocate for my well being in a situation I was not confident in. I felt like I could focus on healing while the PWC team handled everything else. I feel like I have a team of fighters now, and I thank you Eric as well as the entire team of people who are working on my case, namely Iana Zadneprovskaia, Almarie Rodriguez, Lauren Thiemann. I feel you are angels around me. I am grateful to all of you and what you do. From the bottom of my heart, thank you for giving my faith in humanity.
Sincerely,
Somporn Coggin"
It's letters like this that reaffirm why our firm exists and why we do what we do.