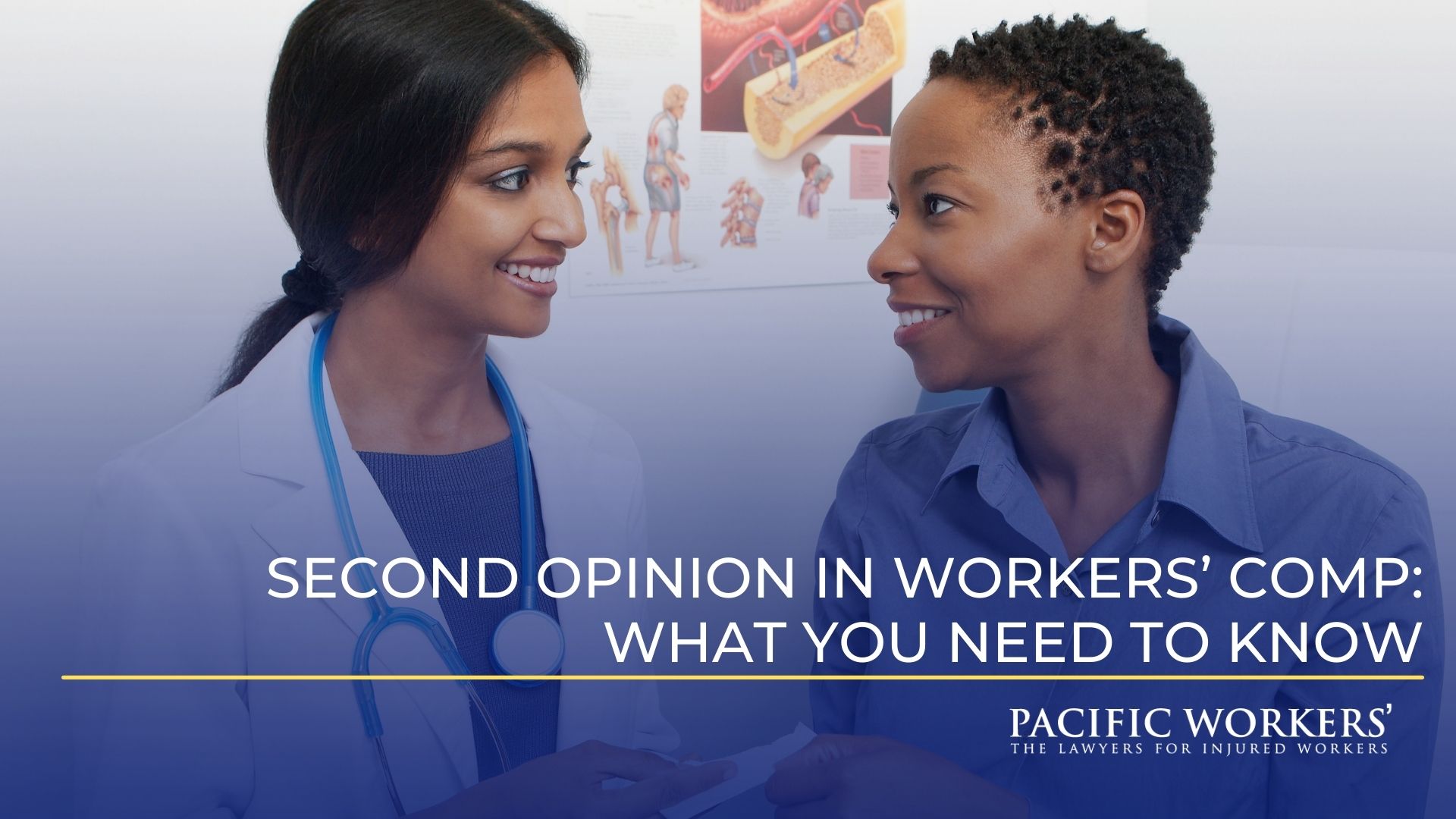 You got injured at your workplace, so you followed the regular conduct and filed a Workers' Compensation claim. The insurance company accepted with no problem, and they assigned you a treating physician to handle your treatment. So far so good. 
Nonetheless, you are not feeling satisfied with the physician they assigned you. It also may happen that you don't consider the prescribed treatment as the one you should be receiving, whether you have a work-related injury or illness you need to heal. 
If this happens to be your case, you can get a second opinion in California's Workers' Comp system. Take a look at the 7 insights in this article. You'll love knowing this if you ever find yourself in this situation. 
1. When Should I Ask for A Second Opinion? 
Ask for a second opinion if you think either the diagnosis, the treatment, or the treating physician itself is inadequate for your health. Your recovery and your overall well-being are the most important aspects of this process, so you should always make decisions having that in mind.  
You can obtain a second or even a third opinion from another physician. However, the doctor who will give the second opinion must be part of the Medical Provider Network (MPN). While this process develops, you are required to continue your treatment with the treating physician or your choice within the MPN list. 
The key here is to find the right doctor that suits your needs. 
A lot of injured workers like you have been through this before. Take advantage of it. Read reviews about the physicians, clinics, and even medical facilities on Yelp, Google, and Facebook before making an appointment with the new physician. This search will give you more insights and help you choose the professional you need for your treatment. 
2. Steps to Get a Second Opinion 
If you disagree with your doctor's diagnosis or the treatment they prescribed, you can ask for a second opinion. Yet, like almost all things in life, you need to follow some steps to do it. 8 CCR 9767.7 is the governing statute that controls the process. We have outlined the essential steps for you, to ensure that the process will have the expected outcome. 
You ought to inform the claim adjuster. Tell them you are requesting a second opinion. You may notify the claim adjuster either by written or oral communication. Note that this is different than requesting a QME (Qualified Medical Evaluator) because you are not objecting to your treating physician's opinion. This is also different from asking for a new doctor. You must be clear that you are asking for a second opinion. 
Next, choose a doctor or specialist. There is a list of available MPN providers, look at it and make your choice. Remember to do your research before you select the new treating physician. 
Make an appointment with the doctor who will give you the second opinion. You must schedule it within 60 days. Otherwise, it will be considered as if you have waived the second opinion process. 
When you have the appointment set, inform the date to the claim adjuster. 
In addition, the employer or the insurance company has the following responsibilities: 
They must provide you with at least a regional area listing of MPN providers or specialists. Within this list, you can find the doctor that suits you best regarding the type of injury, according to their recognized expertise.  
They must notify the second opinion physician that has been selected for this matter. Also, they must explain the nature of the dispute. This communication must be in writing, and you should have a copy of it. 
They must provide the second opinion physician with a copy of your medical records prior to the appointment date.  
They must acknowledge your right to request a copy of your medical records. If you request these medical records, they must provide them to you. 
If the second opinion physician determines, after reviewing your medical records, that your injury is outside the scope of their practice or expertise, the professional must notify the claim adjuster. In such circumstances, the employer or insurer can offer a new list of MPN providers and/or specialists for you to choose from.  
3. When Do I Need a Third Opinion? 
In case you experience the same issue with the second treating physician, you may ask for a third opinion. For this, you must follow the same procedure as you did when asking for the second opinion.  
Furthermore, the employer or the insurance company has the same responsibilities as before. Often, we see injured workers requesting third opinions when a high-risk treatment like surgery is considered. You must never rush into a treatment you aren't comfortable with unless you are in an emergency. 
4. What Else Should I Know About Second and Third Opinions? 
The second and third opinion (if applicable) doctors must each render their opinion of the disputed diagnosis or treatment, and they must do it in writing. They must offer an alternative diagnosis or treatment recommendation if applicable.  
This report will be sent to you, the claim adjuster, and the treating physician within 20 days of the appointment date or the diagnostic test results, whichever is later. 
5. How Is This Different Than Changing My Treating Physician? 
A second or third opinion consultation is different from changing your Primary Treating Physician (PTP). While you seek your second or third opinion, you may keep your treating physician to ensure that benefits or treatment aren't interrupted. To change your treating physician, you must designate a new physician as a separate process.  
Frequently, injured workers use the second or third opinion consultation to try out a new doctor before making the change. Be careful not to accidentally change your doctor without intending to, as your benefits and treatment may be at risk of being affected. 
6. Is A Second or Third Opinion Doctor the Same As a QME? 
Second and third-opinion doctors don't replace the QME process. Under Labor Code Sections 4060, 4061, and 4062, QMEs serve different purposes.  
When you request a QME, you need to request a compensability exam under Labor Code Section 4060 or object to your treating physician's opinions under Labor Code Sections 4061 or 4062. 
7. Do I Need a Lawyer to Help Me? 
If everything is going according to plan, it is okay to handle your claim on your own. However, this does not happen very often. 
The Workers' Compensation system was built to provide injured workers with the medical treatment they need, as well as pay for lost wages and an amount for any resulting permanent disability.  
Know that dealing with this system can be challenging and draining. Insurance companies often delay cases or deny the claims. Also, many doctors and medical facilities work for insurance companies. That is, they will not put your health first. 
Workers' Comp attorneys know which doctors will help you and which medical facilities you should avoid. Moreover, they have doctors who trust their firm enough to treat you on a lien basis. So, this will be an easier process for you if you have an attorney by your side, and with more chances of success too. 
Conclusion 
Workers' Compensation cases have lots of different issues to consider. Treatment issues are one of them. But now you know you can get a second or third opinion if you feel unsatisfied with how your treatment process is developing.  
To do so, inform the claim adjuster you want a second opinion, choose the doctor from the list they will provide you, and make an appointment. Don't forget to inform your employer or claim adjuster of the appointment date.  
Remember that you don't have to do this alone. This process can be overwhelming; having an experienced attorney beside you can make it smoother and less painful for you. We are here to help you. Talk to us for free at 800-606-6999. 
Pacific Workers', The Lawyers for Injured Workers in Northern California's Premier Workers' Compensation Law Firm. Representing First Responders, Health Care Workers, Construction Workers, Delivery Workers, Warehouse Workers, and all the hard-working people that keep our community moving in their Fight for Justice against the Insurance Companies.  
With over 250+ Five Star Reviews; an incredible staff of caring, well-trained, advanced technology for superior client communication: a track record of an over 98%-win rate and giving back to our community through the Pacific Workers' Foundation, it is easy to see why Pacific Workers' is the go-to law firm for all injured workers in Northern California. Offices in Oakland, Concord, Stockton, Tracy, San Jose, and Sacramento.  
If you or a loved one need help or just have a question, give us a call at 800-606-6999 or email us at Intakes@pacificworkers.com.