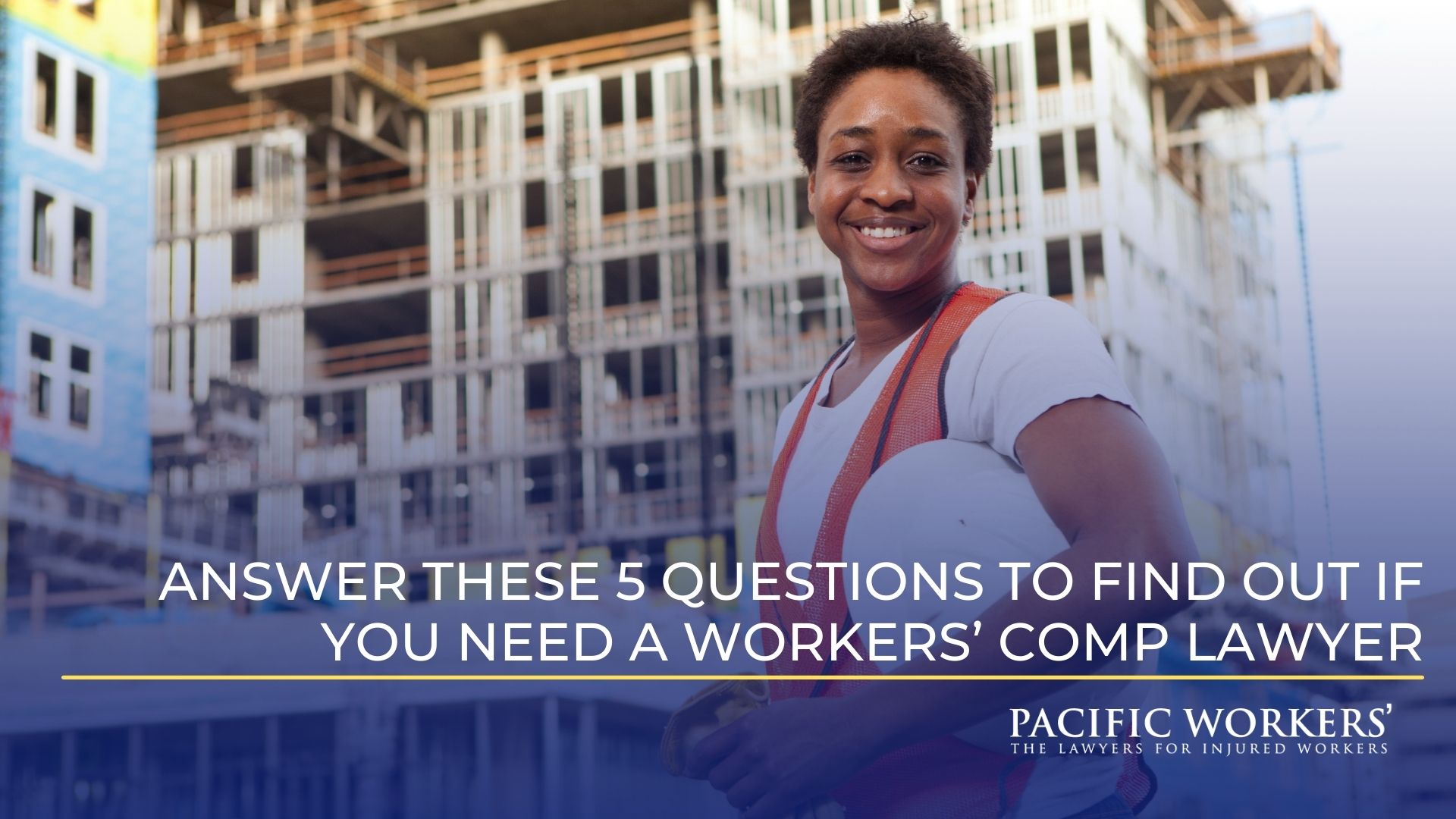 Got injured at work? Hiring a Workers' Comp lawyer must be the number one thought on your mind. 
This is a complicated question, as cases are different and involve several factors. You will also have to deal with a complex bureaucratic system and, sometimes, unfair insurance companies. 
It is a hard road to walk; therefore, it's better to have someone by your side with the knowledge and commitment to fight for you.  
We have prepared five questions to help you decide whether you need a Workers' Compensation attorney. 
1. What Is Your Case Status? 
Workers' Compensation exists to provide you with medical treatment and related expenses, plus lost wages, and an amount towards any resulting Permanent Disability. 
If your case has been denied or delayed, it is always wiser to hire an attorney. This situation can be harsh, so why not find someone to rely on? 
The fight to get medical treatment can be strenuous as insurance companies have the right to deny it. And if they do, you have limited options for appealing their decision.  
Are these scenarios familiar to you? Then you should hire an attorney. 
2. What Type of Workplace Injury Did You Suffer? 
Your employer is required to pay for Workers' Compensation benefits if you get hurt on the job.  
A single event can cause an injury, such as falling at work. Or it can be caused thanks to repeated exposure (Cumulative Trauma), which arises after years of work, such as: 
Carpal tunnel syndrome 

Tendinitis 

Hearing loss 

Bursitis 
If you have Cumulative Trauma, you need an attorney. On the contrary, if you have a specific mild injury and your case is accepted, you might be able to handle your Workers' Compensation case yourself. 
3. How Severe Is Your Injury? 
If you have a Permanent Disability due to a workplace injury, you will need a Workers' Comp attorney. Otherwise, it would be totally demanding to negotiate with the insurance company's adjusters and attorneys.  
Don't forget that these are professionals trained to make the insurance company pay out as little as possible. The best way to overcome this is to have a professional company that can negotiate and knows how to work around this system. 
And more importantly, you should focus more on your recovery, not the case process. 
4. Is Your Medical Treatment Accepted? 
Minor injuries can turn into critical injuries without prompt treatment. You must have medical attention as soon as possible after your injury. However, this treatment must be approved by the Utilization Review (UR) first. 
Medical treatment can be approved or denied. When approved, most insurance companies will send you to work-injury clinics, where you will find doctors who work for them. This means their interests are closer to these companies, not to the injured workers.  
And if it is denied, you need to handle this outcome and follow another process to get the medical treatment you require. Either way, hiring a lawyer amplifies your chances of having proper medical treatment and early recovery. 
5. Is Settlement Right for You? 
You can solve your case through an agreement with the claim administrator. It can also be solved when a judge issues an order about your payments and future medical care that will be provided to you. 
Workers' Comp claims settle in two main ways: Compromise and Release (C&R) or by Stipulation with Request for Award (Stips). Find the pros and cons of both settlements in this article. 
People rarely see substantial monetary awards from Workers' Compensation courts, which is why settlements are so frequent. Although attorneys can never guarantee an outcome, their experience can give them insight into what may happen. 
Experienced and respected attorneys can maximize a case through careful preparation and excellent negotiation. Don't leave your future to chance; choose what is best for your health and well-being. You are not alone in this. Call us for a free consultation at 800-606-6999. 
Pacific Workers', The Lawyers for Injured Workers in Northern California's Premier Workers' Compensation Law Firm. Representing First Responders, Health Care Workers, Construction Workers, Delivery Workers, Warehouse Workers, and all the hard-working people that keep our community moving in their Fight for Justice against the Insurance Companies. 
With over 250+ Five Star Reviews; an incredible staff of caring, well-trained, advanced technology for superior client communication: a record of accomplishment of an over 98%-win rate, and giving back to our community through the Pacific Workers' Foundation, it is easy to see why Pacific Workers' is the go-to law firm for all injured workers in Northern California. Offices in Oakland, Concord, Stockton, Tracy, San Jose, and Sacramento. 
If you or a loved one need help or just have a question, give us a call at 800-606-6999 or email us at Intakes@pacificworkers.com.