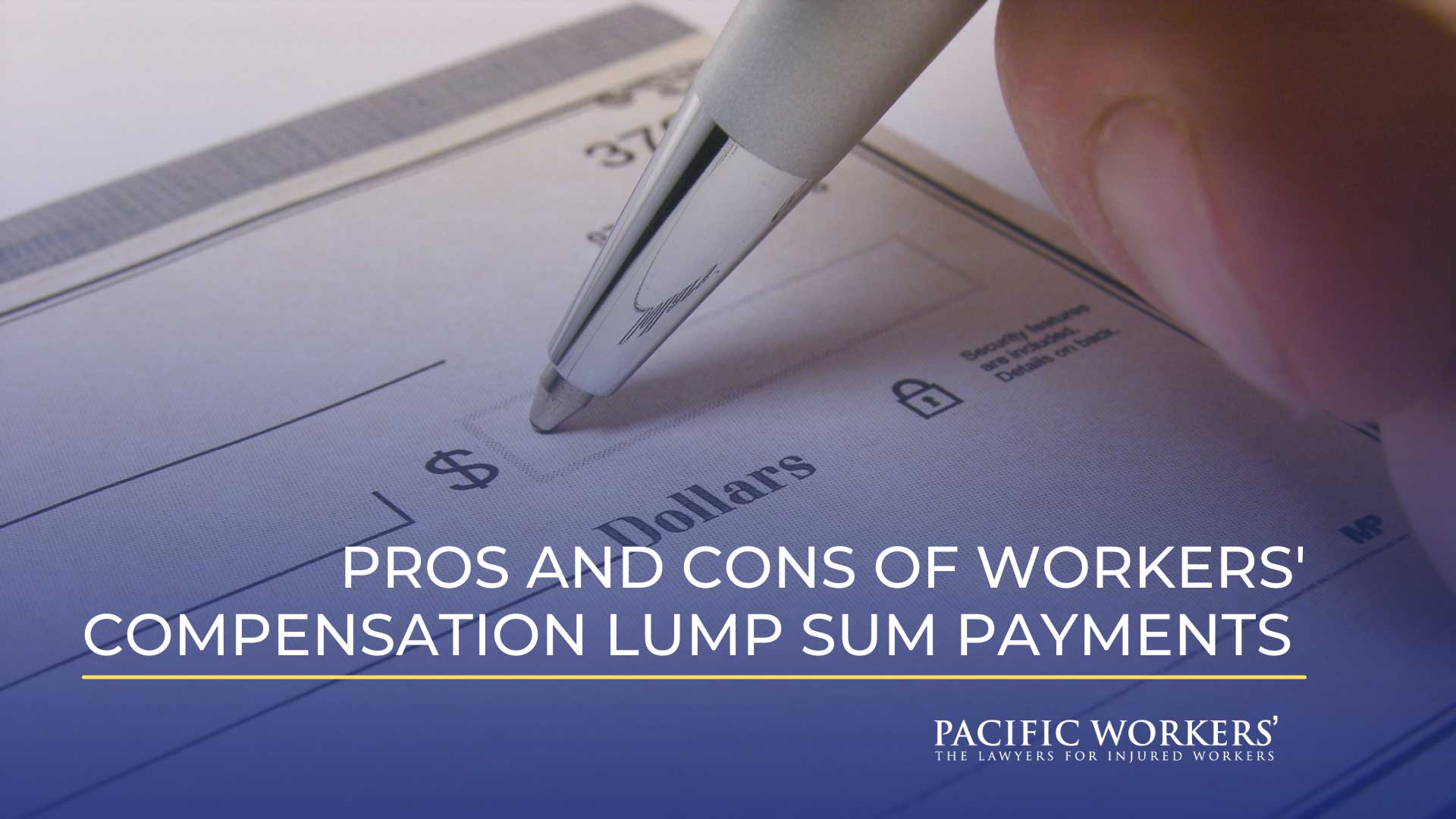 Known as Compromise and Release payments or for short C & R, lump sum payments are one-time payments given to injured employees following a work-related accident instead of weekly or bi-weekly payments or structured settlements, which are paid out in instalments over a predetermined period of time.
While they do have their advantages, lump sum settlements are not the best option for injured employees in all circumstances. It may even be a bad thing for the injured employee, particularly those who may incur future medical costs due to their job accident.
In this article, we'll take a look at the pros and cons of lump sum workers' comp payments so that you can negotiate for an arrangement that works best for you.
Advantages of One-Time Payments
A lump sum payment may be beneficial in the following circumstances:
As a result of your accident, you are not recuperating any further or have reached the end of your recovery, which implies that you will not incur more medical costs. The lump amount provided will cover all of your previous and present expenses.
You should consider accepting the settlement offer if the amount of money offered will provide you with financial security while getting better. Everyone involved, including you, your doctor, and your lawyer, agrees that the amount offered is sufficient to support you.
Accepting a lump sum settlement offer makes sense if your doctor does not believe you will need further medical care due to your work-related injury in the foreseeable future.
The Disadvantages of Lump Sum Payments
Here are several indications that accepting a lump sum offer is not the best course of action:
If you are still in the early stages of recovering from your injury, determine the amount of money you will require to recover fully. The lump sum settlement may end up being for less than you require to recover. If your health worsens and you need more medical treatment in the future, you will be liable for the expenses. In such a scenario, weekly benefits may be the most appropriate option.
If there is an excellent probability that your work-related injury will necessitate future medical treatment, a lump sum settlement is most certainly not the best option. In exchange for accepting a lump sum settlement, you renounce your right to file a reopening lawsuit in the future. That means that if you wind up requiring additional money to pay for future medical procedures, you will be solely liable for those expenses.
If your injury is long-term or permanent, you may be able to receive benefits via social security disability. Choosing to accept a lump sum payment may result in a reduction in the number of disability benefits you get. You should consider this before deciding whether or not to accept it, particularly if you will be getting workers' compensation payments and Social Security Disability benefits at the same time.
You anticipate future advantages, such as pension contributions. A lump sum settlement may affect the value of anticipated pension amounts when you reach retirement age. If you are receiving workers' compensation benefits, these are significant concerns for your future financial security, and you should not take them lightly when choosing how to accept your money.
Waiting until later in your rehabilitation timeline before accepting a settlement may be preferable in the long run.
What to Do If You've Been Offered a One-Time Payment
You should be aware that you are not obligated to accept a lump sum payment and that you have the option to negotiate with the insurance provider to receive compensation under different terms. However, if you wish to bargain, you should consult with a good workers' compensation attorney to guide you through the procedure.
If you have not yet received a long-term diagnosis for your injury, it may be helpful to consult with your doctor before taking a lump sum payment. Inquire whether or not you will be able to return to work and whether or not there will be any long-term consequences or disabilities resulting from the accident. Consider the possibility that the injury may worsen over time, necessitating further medical attention in the future.
Final Thoughts
With an attorney at your side, you will navigate the workers' compensation system more successfully. You will have more bargaining power in discussions to achieve a settlement arrangement in your best interests.
If you are searching for a good workers' compensation lawyer, look no further. Pacific Workers', the Lawyers For Injured Workers will ensure you have the best team to help address your needs. Call us at 800-606-6999 for a free consultation!