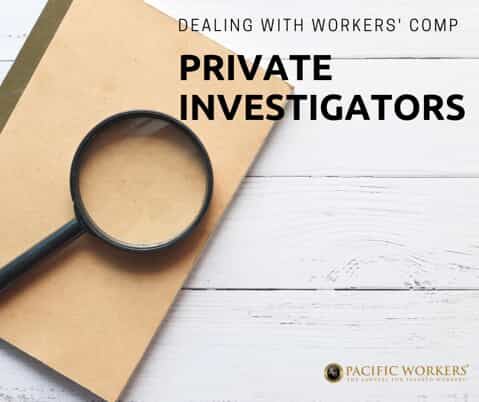 After you've been injured at work and filed a workers' comp claim, insurance company representing your employer will gather evidence of the injury before making a decision about your benefits. 
In certain cases in an effort to prove that the injured workers is not as injured as they say they are, they hire investigators. Sometimes this is warranted to uncover fraudulent claims.
You're more likely to be placed under investigation if you have a large claim, have filed claims before or if the insurance company has any reason to be concerned about fraud.
However, even if your case shows no red flags, investigators may still be assigned to you. They may be trying to collect evidence that you aren't injured or are less injured than reported so that they don't have to pay benefits.
Private investigators use many tactics when they're hired by insurance companies, including:
Video surveillance: Investigators may monitor your house and even take photographic and video evidence of you in public spaces, especially if they see something that may be construed as you not following doctor's orders.
Direct contact: Private investigators may call your home.
Interviews: Your friends and neighbors may be interviewed by investigators as well as your coworkers and family.
Direct surveillance: In some cases, investigators may follow you.
Online surveillance: Anything you post on social media may be seen by private investigators. Even if your settings are set to "private," keep in mind that if anyone you're friends with reposts your photos or information, investigators may have access to it. They can also monitor your internet activity. For these reasons, you should treat anything you post or search online with caution, assuming it can be seen.
The following tips are crucial when you are being investigated:
Follow your doctor's orders and restrictions: If your doctor tells you not to walk or perform other activities, avoid those movements entirely, even for short bursts of time. Get your medical professionals to write down every activity that's restricted, and follow the list. 
Use social media responsibly: Avoid posting or commenting about your injury online, even if you think you're using a private or encrypted mode of communication.
Assume an investigator is checking your movements: Since there's no way to know whether you're under investigation, it may be safer to assume someone is monitoring your claim. That way, you won't be surprised.
We are Northern California's Premier Workers' Compensation and Personal Injury Law Firm. We represent First Responders, Health Care Workers, Construction Workers, Delivery Workers, Warehouse Workers, and the hard-working people that keep our community moving in their Fight for Justice against the Insurance Companies.       
With over 250+ Five Star Reviews, an incredible staff of caring, well-trained, advanced technology for superior client communication, a track record of an over  98% win  rate and giving back to our community through the Pacific Workers' Foundation, it is easy to see why Pacific Workers' is the go-to law firm for all injured workers in Northern California. Offices in Oakland, Concord, Stockton, and Sacramento.     
If you or a loved one needs our help or just have a question, give us a call 800-606-6999.