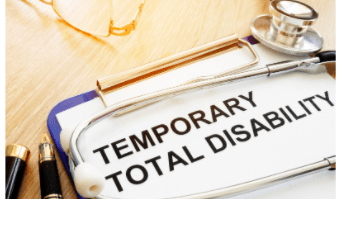 California's government announced new changes for the temporary total disability (TTD) rates starting January 1st, 2021. The Division of Workers' Compensation announced increases, which means that the minimum fee will go from $194.91 to $203.44, whereas the maximum wage is headed from $1,299.43 to $1356.51 per week.
According to the state's labor code, weekly indemnity benefits should increase by an equal percentage to the state's average weekly wage in the prior year. It should be emphasized that from March 31st, 2019, throughout the following 12 months, the weekly salary went up 4.38 percent. The State Average Weekly Wage (SAWW) is defined as the average weekly payment rewarded to employees covered by unemployment insurance stated by the U.S. Department of Labor for California.  
But what do these temporary total disability benefits mean? If your injury prevents you from doing your usual job while recovering, you may be eligible if you lose wages because: 
Your primary care physician states that you cannot do your regular job for more than three days or if you get hospitalized overnight. 

Your employer does not offer you work that pays your usual wages while you recover. 
It's worth noting that there is also a temporary partial disability (TPD) payment if the patient's wages while recovering are below a maximum limit set by the law.  
We would also like to highlight that this measure equals two-thirds of the gross (pre-tax) wages you lose while recovering from a job injury. You can't receive more than the maximum or less than the minimum amounts, and you don't pay any taxes. Check out our blog video explaining TTD Benefits here. 
Under Labor Code Section 4659 (c), workers with an injury date on or after January 1st, 2003 - who get a life pension (LP) or permanent total disability (PTD) benefits - are also entitled to have a weekly LP or PTD rate adjusted, based on the State Average Weekly Wage (SAWW).  
If you need help or have been denied TTD Benefits, Pacific Workers', The Lawyers for Injured Workers can help you. 
We are Northern California's Premier Workers' Compensation and Personal Injury Law Firm. We represent First Responders, Health Care Workers, Construction Workers, Delivery Workers, Warehouse Workers, and the other hard-working people that keep our community moving in their Fight for Justice against the Insurance Companies.       
With over 250+ Five Star Reviews, an incredible staff of caring, well-trained, advanced technology for superior client communication, a track record of an over 98% win rate and giving back to our community through the Pacific Workers' Foundation, it is easy to see why Pacific Workers' is the go-to law firm for all injured workers in Northern California. Offices in Oakland, Concord, Stockton, and Sacramento.     
If you or a loved one needs our help or just have a question, give us a call 888-740-6434 or email : Intakes@pacificworkers.com.. . We are here to serve!