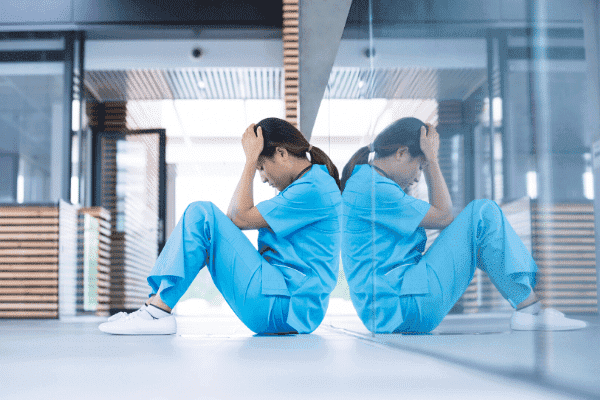 1 in 10 Covid Cases in CA Is a Health Care Worker. Don't Be Denied Workers' Compensation If Infected on the Job
With the Covid-19 pandemic hitting hard in California, particularly at the frontline: The Essential Workers, the public concern should also arise about protecting them and not denying their rights, such as Workers' Compensation benefits if they got infected while on duty.
According to local health departments, as of June 3, there were 10,519 health care workers diagnosed with Covid-19, and 64 died. It means that almost 1 out of 10 confirmed cases statewide —which rose to a total of 119,807— involved a health care worker.
This situation leads us to value the importance of Essential Workers in maintaining the health and welfare of communities during the pandemic, and also how vital it is to protect them. But who is considered an Essential Worker? And why is it important that you know it in terms of Workers' Compensation?
In California, Executive Order N-62-20 signed by Governor Newsom on May 6, 2020, made it easier to obtain Workers' Compensation benefits for Essential Workers who contract Covid-19.
It created a time-limited rebuttable presumption for accessing Workers' Compensation benefits applicable to Californians who must work outside of their homes during the stay at home policy. This presumption remains in place for 60 days following the order, or until July 5, 2020.
The order helps facilitate employees' access to all Workers' Compensation benefits, including hospital, surgical, medical treatment, temporary disability benefits, and death benefits. Those eligible will have the rebuttable presumption if they tested positive for Covid-19, or were diagnosed and confirmed by a positive test within 14 days of performing labor or service at a place of work after the stay at home order was issued on March 19, 2020.
According to the Governor's previously issued Executive Order N-33-20, the State Public Health officer designated the following as "Essential Critical Infrastructure Workers":
Health and Public Health Sector
Emergency Services Sector
Food and Agriculture Sector
Energy Sector
Water and Wastewater Sector
Transportation and Logistics Sector
Communications and Information Technology Sector
Government Operations and Other Community-Based Essential Functions
Critical Manufacturing Sector
Financial Services Sector
Chemical Sector
Defense Industrial Base Sector
Industrial, Commercial, Residential, and Sheltering Facilities and Services.
As you may know, the Healthcare and Public Health Sector is a very large and diverse workforce. It includes both the private and public workforce. Below is a list of workers from the Health and Public Sector that can be included in the category of Essential Workforce:
Health care providers and caregivers including physicians, dentists, psychologists, mid-level practitioners, nurses, assistants, and aids; infection control and quality assurance personnel; pharmacists; physical, respiratory, speech, and occupational therapists and assistants; social workers and providers serving individuals with disabilities including developmental disabilities; optometrists; speech pathologists; chiropractors; diagnostic and therapeutic technicians; and radiology technologists.
Workers required for effective clinical, command, infrastructure, support service, administrative, security, and intelligence operations across the direct patient care and full healthcare and public health spectrum, including accounting, administrative, admitting and discharge, engineering, accrediting, certification, licensing, credentialing, epidemiological, source plasma and blood donation, food service, environmental services, housekeeping, medical records, information technology and operational technology, nutritionists, and sanitarians; emergency medical services workers; prehospital workers including but not limited to urgent care workers; inpatient and hospital workers; outpatient care workers; home care workers; workers at long-term care facilities, residential and community-based providers; and workplace safety workers.
Workers needed to support transportation to and from healthcare facilities and provider appointments.
Workers needed to provide laundry services, food services, reprocessing of medical equipment, and waste management.
Vendors and suppliers including imaging, pharmacy, oxygen services, and durable medical equipment.
Workers who perform critical clinical research, development, and testing needed for Covid-19 response.
Workers in other medical and life science facilities including ambulatory health and surgical, blood banks, clinics, community mental health, comprehensive outpatient rehabilitation, end-stage renal disease, health departments, home health care, hospices, hospitals, long term care, organ pharmacies, procurement organizations, psychiatric, residential, rural health clinics and federally qualified health centers, and retail facilities specializing in medical goods and supplies, including cannabis.
Workers for health manufacturing including life science companies and companies that have shifted production to medical supplies; materials and parts suppliers, technicians, logistics and warehouse operators, printers, packagers, and distributors of medical equipment (including those who test and repair), personal protective equipment (PPE), isolation barriers, medical gases, pharmaceuticals (including materials used in radioactive drugs and cannabis products), dietary supplements, blood and blood products, vaccines, testing materials, laboratory supplies, cleaning, sanitizing, disinfecting or sterilization supplies, personal hygiene products, and tissue and paper towel products.
Public health/community health workers, including those who compile, model, analyze, and communicate public health information.
Behavioral and mental health workers responsible for coordination, outreach, engagement, and treatment to individuals in need of mental health and/or behavioral services.
Donors of blood bone marrow, blood stem cell, or plasma and the workers of the organizations that operate and manage related activities.
Workers that manage health plans, billing, and health information.
Workers who conduct community-based public health functions, epidemiologic surveillance, compiling, analyzing, and communicating public health information.
Workers performing IT and cybersecurity functions at healthcare and public health facilities.
Workers performing security, incident management, and emergency operations functions at or on behalf of healthcare entities including healthcare coalitions.
Pharmacy employees, including workers necessary to maintain uninterrupted prescription filling.
Workers in retail facilities specializing in medical goods and supplies.
Public health and environmental health workers including workers specializing in environmental health that focus on implementing environmental controls, sanitary and infection control interventions, healthcare facility safety and emergency preparedness planning, engineered work practices, and developing guidance and protocols for appropriate PPE to prevent Covid-19 disease transmission; public health/community health workers (including call center workers) who conduct community-based public health functions, epidemiologic surveillance and compiling, analyzing, and communicating public health information.
Mortuary services providers, including workers performing mortuary, funeral, cremation burial, cemetery, and related services, including funeral homes, crematoriums, cemetery workers, and coffin makers.
Workers who coordinate with other organizations to ensure the proper recovery, handling, identification, transportation, tracking, storage, and disposal of human remains and personal effects; certify the cause of death; and facilitate access to behavioral and mental health services to the family members, responders, and survivors of an incident.
Workers supporting veterinary hospitals and clinics.
According to state data released to CalMatters.org, 5,093 workers' compensation claims were filed from January to May in California. Of those claims, 1,076 were denied and most of them were denied before Newsom's executive order.
If you are in one of these industries and have been affected by Covid-19, you can call today at 888-740-6434 or email EssentialWorker@pacificworkers.com.
Pacific Workers', The Lawyers for Injured Workers is Northern California's Premier Workers' Compensation Applicant firm. We represent First Responders, Health Care Workers, Construction Workers, Retail Workers, Warehouse Workers, Delivery Drivers, and the other hard-working people that keep our community moving in their Fight for Justice against the Insurance Companies.
With over 250+ Five Star Reviews, an incredible staff of caring, well-trained caring, advanced technology for superior client communication, a track record of an over 96% win rate and giving back to our community through the Pacific Workers' Foundation, it is easy to see why Pacific Workers' is the go-to law firm for all injured workers in Northern California. Offices in Oakland, Concord, Stockton, and Sacramento.
If you or a loved one needs our help or just has a question, give us a call. We are here to serve!