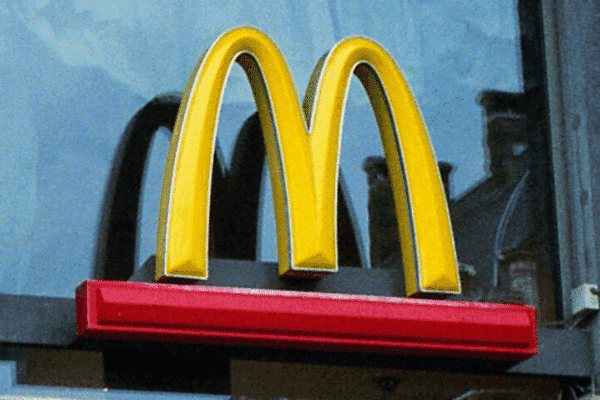 Outbreak: Employees Asked to Use Dog Diapers at Oakland McDonald's
After many warned about a second Covid-19 outbreak, one of Oakland's McDonald's restaurant locations has been closed since May 26. In letters sent to CalOSHA last May, workers said that in April they were given dog diapers to make their masks at work. They also said there was not a safety plan for sanitizing the facility and implementing social distance against Coronavirus.
According to The Mercury News, 22 employees did not show up to work on May 26 and started a strike and took legal action. Employees blamed the outbreak on alleged negligence from the restaurant owner that caused to spread to more than 30 people: 11 workers, six of their family members including a 10-month-old child, and at least seven workers at another McDonald's location in Berkeley, according to a public nuisance lawsuit employees made on June 16.
The complaint states that management failed to provide personal protective equipment (PPE), forced sick employees to work, and discouraged them from using their paid sick leave.
In a statement sent to The Mercury News, Michael Smith, the restaurant's owner, replied that the restaurant was closed because of a "deep cleaning procedure" after three employees were diagnosed with Covid-19. He added that they were following the Centers for Disease Control and Prevention (CDC) and state safety guidelines.
Yamile Osoy, an employee at the McDonald's restaurant on Telegraph Ave., in Oakland, and her 10-month-old baby tested positive for Covid-19. Employees did not have the option to take paid sick days, she said.
"Our managers forced us to come into work sick, which resulted in us working in close proximity to co-workers who were sick. One of my co-workers, who was pregnant, was told to cancel a doctor's appointment in order to come into work," Osoy wrote in an article for Time.com.
Last week, a California judge ordered the restaurant to remain closed until the court decides whether to order the owner to improve his health and safety practices, reported AP. The next hearing for this case will be July 2.
In California, fast-food workers at chains like McDonald's are considered Essential Workers within the Food and Agriculture Sector. Under Gavin Newsom's Order, Essential Workers' are entitled to Workers' Compensation if they get infected from Covid-19.
If you are in this industry and have been affected by Covid-19, you can call today at 888-740-6434 or email EssentialWorker@pacificworkers.com.
Pacific Workers', The Lawyers for Injured Workers is Northern California's Premier Workers' Compensation Applicant firm. We represent First Responders, Health Care Workers, Construction Workers, Retail Workers, Warehouse Workers, Delivery Drivers, and the other hard-working people that keep our community moving in their Fight for Justice against the Insurance Companies.
With over 250+ Five Star Reviews, an incredible staff of caring, well-trained caring, advanced technology for superior client communication, a track record of an over 96% win rate and giving back to our community through the Pacific Workers' Foundation, it is easy to see why Pacific Workers' is the go-to law firm for all injured workers in Northern California.
If you or a loved one needs our help or just has a question, give us a call. We are here to serve.