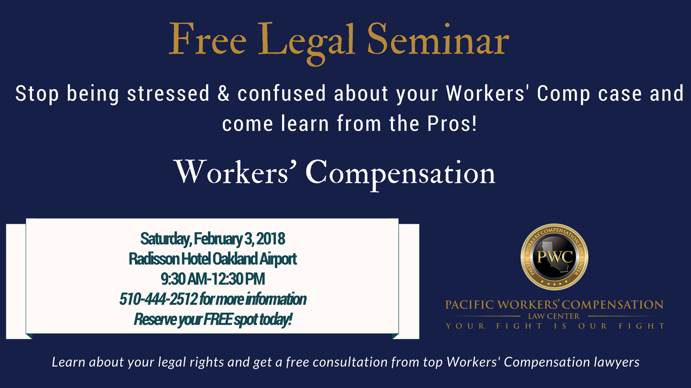 There's no question that our free legal seminar is useful. It's loaded with information about California Workers' Compensation. It can help empower you for a long fight against insurance adjusters and defense attorneys who care only about the insurance company's bottom line. You can also get a free, private consultation with a knowledgeable member of the Pacific Workers' Compensation staff. However, the free legal seminar on Workers' Compensation is not for everyone. This simple questionnaire can help you determine whether the seminar is right for you.
1. Have you or a loved one ever been injured at work?
If the answer is yes, our free seminar on workers' compensation might be right for you. However, if you've never experienced a workplace injury, there's probably no reason for you to go! There are, of course, exceptions. Many industries cause cumulative trauma over years of work. Even if you've never had a specific injury, you might still have a Workers' Compensation case. Firefighters, police officers, and other first responders can experience cumulative injuries from years of wearing a heavy duty belt. Warehouse and factory workers can experience repetitive motion injuries.
2. Did your injury take place in California? If not, did it take place while working for a California-based employer?
If you answered yes to either of those questions, our Workers' Compensation seminar might be right for you. But if you were injured out-of-state, while working for an out-of-state employer, you need information on the Workers' Compensation laws of the state where you were hurt. Each state has its own Workers' Compensation laws, and our free legal seminar is specific to California statutes.
3. Do you already have representation?
Actually, this one doesn't matter! We're happy to provide information and answer your questions either way. We know not all law firms communicate well, and our free legal seminar can empower injured workers regardless of representation. However, if you already have our representation, the info we go over in our free legal seminar is covered in your welcome materials.
You should direct any questions you have about your specific situation to your case team. They're the ones who know your case best, and they're always happy to educate you on all Workers' Compensation matters! If you are a Pacific Workers' Compensation client, we do not recommend attending our free legal seminar. Instead, schedule a call with your case manager. All our case teams have extensive training in Workers' Compensation. They can offer you even more information than what we cover in the free legal seminar.
If our free legal seminar on Workers' Compensation is right for you, reserve your free spot today!