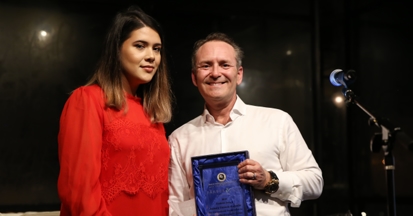 The Pacific Workers' Compensation team goes above and beyond to fight for clients every day. We're obsessed with customer service and delivering the best possible outcome for all of our clients. Each year, we recognize members of our team who have accomplished something outstanding. Here's a recap of this year's award-winners:
Client Referral Award
Client referrals are the highest form of recognition for our firm. When we earn a client referral, we know that we've earned someone's trust and exceeded their expectations. Team Zadneprovskaia earned the most client referrals in 2018, their second consecutive year with this honor.
Special Recognition
Associate Attorney, Alison Gude, earned a special recognition for her work for her clients. Ms. Gude returned from medical leave this year, and got back to work with her new team of Case Manager, Sergio Ardila, and Assistant Case Manager, Karla Leiva. They've delivered outstanding results for their clients ever since. Our Associate Marketing Director, Yuliya Benkhina, also earned a recognition for her work helping new clients find our firm.
Hero Award
To earn the Hero Award, a member of our team has to do something truly amazing for a client. This year, the Hero Award goes to Team Insdorf. They were able to work together to keep a client and his family from being evicted from their home while the client, the sole earner for the family, was unable to work. Jason Insdorf talked to the landlord personally.
Foxhole Award
The Foxhole Award goes to the member of our team whom you'd want in the Foxhole with you -- someone who'd have your back, the glue that holds a company together. This year's Foxhole Award winner is Jazmin Orozco-Salcedo. Jazmin has previously won the Hero Award, and she fights hard for her clients every day. She's also there for her coworkers, answering questions and helping new members of the team train.
We know our team will do even more spectacular things in 2019!