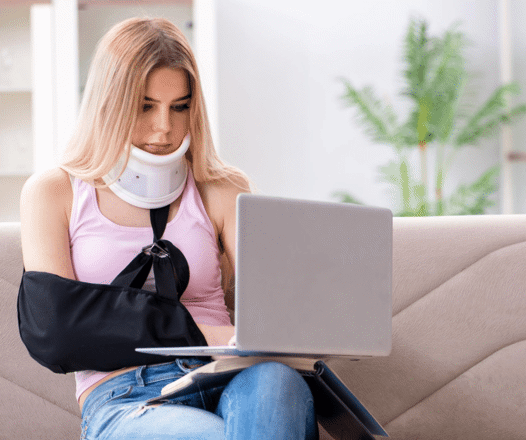 There are two main steps to reporting a work related injury in California: informing your employer of the injury and then filing a workers' compensation claim.
How Long Do You Have to Inform Your Employer?
It is important that you provide your employer with written notice of your injury within 65 days. This timeframe can become less clear when the injury has developed gradually and occurred overtime. If this is the case, then you need to report you injury within 30 days of realizing that your injury was due to work. As a rule of thumb, report your injury as soon as possible.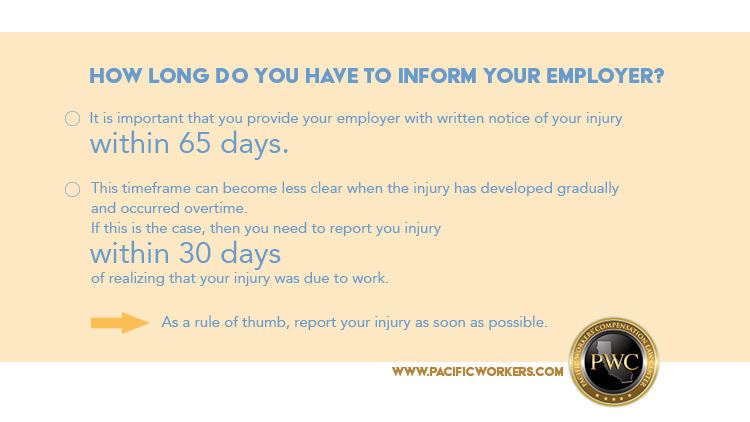 How Long Do You Have to File Your Workers' Comp Claim?
You have 1 year from the date of the injury to file your DWC-1 Claim form. You simply need to hand a completed form to your employer and they will submit it to the insurance company within 5 days.
Although you have an entire year to submit your claim, it is in your best interest to file sooner rather than later. The most time-efficient way of filling for workers' compensation it to use your completed DWC-1 form as your written notice in the initial 65 day timeframe. Once filed, the case will remained open until it is either settled or denied.
What Will Happen If I Report the Claim Late?
If you fail to report the injury to your employer within 65 days, then you do risk not being eligible for compensation. Regardless, according to California Labor Code Section 5402, if you can prove that your employer should have known about the injury, then you are still eligible for compensation.
For example:
You are still eligible for compensation: if you have complained to your employer about physical pain from a work activity/duty.
You are still eligible: if another employee has informed your employer that you had a work related accident.
Contact Pacific Workers' Compensation Law Center
If you failed to report your claim in the appropriated timeframe, then contact an Oakland workers' compensation lawyer. We may still be able to help and will work hard to develop your claim, argue its merits, and fight to get you the compensation that you deserve.
Pacific Workers', The Lawyers for Injured Workers is Northern California's Premier Workers' Compensation Applicant firm. We represent First Responders, Health Care Workers, Construction Workers, Retail Workers, Warehouse Workers, Delivery Drivers, and the other hard-working people that keep our community moving in their Fight for Justice against the Insurance Companies.
With over 250+ Five Star Reviews, an incredible staff of caring, well-trained caring, advanced technology for superior client communication, a track record of an over 96% win rate and giving back to our community through the Pacific Workers' Foundation, it is easy to see why Pacific Workers' is the go-to law firm for all injured workers in Northern California.
If you or a loved one needs our help or just has a question, give us a call. We are here to serve.