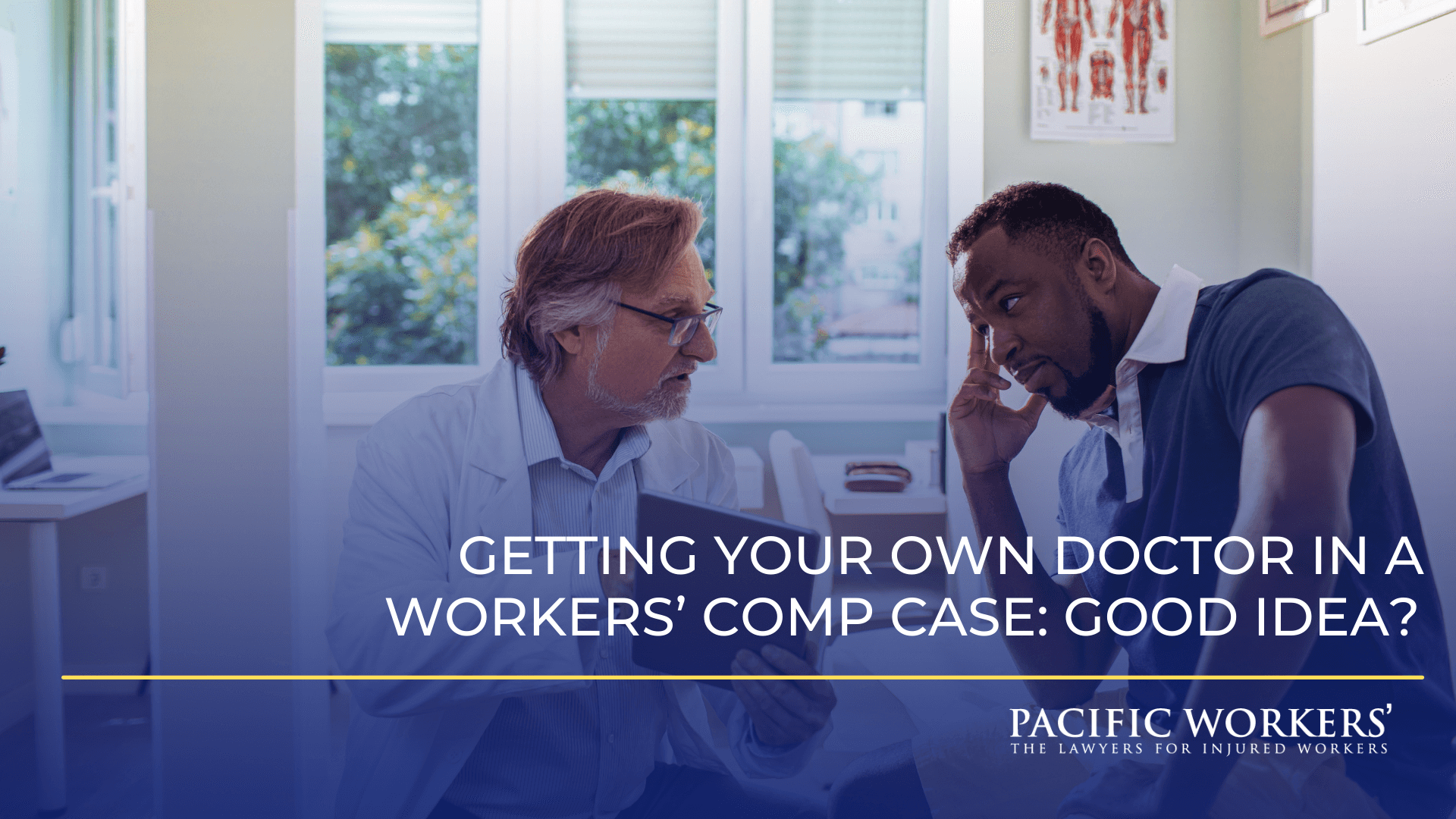 Having a non-network doctor, who is unfamiliar with Workers' Compensation law, is extremely problematic. It's difficult to locate a physician willing to tackle the paperwork required for treatment, which can delay your procedure. Normally, insurance companies have medical provider networks to do the reviews. So, as long as these networks are valid and available, you must go to their selected medical professionals.  
However, with a few exceptions, you can still see a doctor outside the MPN (Medical Provider Network) to treat your injuries. There are 3 situations that apply:  
When insurance companies don't have medical provider networks.  

If the network isn't valid or doesn't have enough doctors.  

If the case is denied, which means they don't want to take responsibility for the injury itself.  
In either case, you could go to a doctor outside the network if you had a work-related injury. But you must take certain steps in order to get approval from your insurance company if you decide to go this way. 
Summary:  
1. Steps to seek a doctor in your MPN   
2. Can I still look for a Non-Network Doctor?   
3. Can I validate the medical bills if I have a doctor outside MPN?    
1. Steps to seek a doctor in your MPN 
Prior to seeking outside help from an MPN, follow this guide and you will find the right professional for your needs. To search for a doctor on the network, do the following: 
Validate to see if your insurance company has a Medical Provider Network: You can obtain this network list from your insurance adjuster. Or if you are in California, you can check if your insurance company has a Medical Provider Network here.  
Search for doctors in your area: They must be within a certain geographic radius of your location or where your work is, and they have to be willing to take your case. In other words, if there are many doctors but none of them want to accept Workers' Compensation cases, the MPN is not valid. You must verify that the providers are legitimate by calling them one by one. You can use this medical directory to find the best doctor in your area.  
Present your chosen doctor to the MPN: Designate your preferred doctor in the network and have them treated as such by your insurance company. In five business days, your insurance company must approve the arrangement. 
All things considered, if your physician accepts you as a patient and authorizes you for treatment, you should stay within the network. 
2. Can I still look for a Non-Network Doctor?  
Alternatively, if this Worker's Comp insurance does not have a Medical Provider Network for your injury, you may pick the doctor of your choice. But consider that the doctor must still follow Workers' Comp regulations. California has medical treatment utilization schedules, medical coding for billing, certain initial and follow-up report forms, and work status, among other things. 
Non-network doctors can be difficult to work with, because they aren't familiar with Workers' Compensation laws and, therefore, don't know how to play by the rules. Consequently, the physician still must complete a lot of paperwork. Being in better health is the most important part, and the doctor would be distracted from this task if they had to worry about paperwork.  
All things considered; you should take into account whether choosing a specialist outside the MPN is in your best interest. Focusing on getting better as soon as possible must be your priority. That being said, you can't pay attention to your health by worrying about all your paperwork delaying your treatment. 
3. Can I validate the medical bills if I have a doctor outside MPN?  
If you see a doctor outside the network, you can expect to pay at least part of the bill out of pocket. And if you choose a provider who is not pre-approved, you may be responsible for paying the full amount, even if your Workers' Comp insurer would have covered part of the bill. For these reasons, it's crucial to shop around. Get a few quotes from different providers in your area and ask about the cost of various tests and procedures.  
Once you have a few options, it's time to decide what's the best course of action for you. Are you looking for a long-term solution or just a quick fix? Do you have the time and resources to go through a lengthy approval process? Or is it best to seek a quick fix where you have more control over the process? Once you have the facts, you can make a more informed decision about which provider to see. And you can make sure that your choice is in your best interest, both financially and medically. 
To see a guide on how to authorize medical treatments with your MPN (Medical Provider Network) click here.  
Conclusion 
It's critical to take care of yourself, so be aware and make sure you're getting the proper treatment. You usually can't call your own doctor, but you can seek one out if the networks don't provide the coverage you need.  Whether you need quick medical care or specialized treatment, balancing the options out will help you make the best decision for your situation. 
If you are still on the fence about what to do, let us help you. Leave the big decisions in the hands of professionals so you can focus on what's important, getting better. Reach us for free at 800-606-6999 or make an appointment here.  
Pacific Workers', The Lawyers for Injured Workers in Northern California's Premier Workers' Compensation Law Firm. Representing First Responders, Health Care Workers, Construction Workers, Delivery Workers, Warehouse Workers, and all the hard-working people that keep our community moving in their Fight for Justice against the Insurance Companies.    
With over 250+ Five Star Reviews; an incredible staff of caring, well-trained, advanced technology for superior client communication: a track record of an over 98%-win rate and giving back to our community through the Pacific Workers' Foundation, it is easy to see why Pacific Workers' is the go-to law firm for all injured workers in Northern California. Offices in Oakland, Concord, Stockton, Tracy, San Jose, and Sacramento.    
If you or a loved one need help or just have a question, give us a call on 800-606-6999 or email us at Intakes@pacificworkers.com.