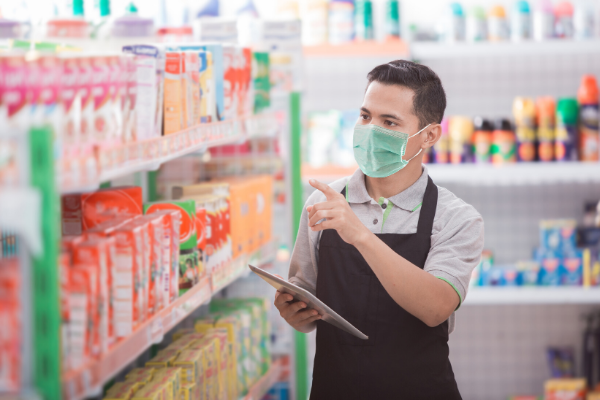 Companies Abandon Essential Workers and Cut Hero Pay as Coronavirus Rises
As Coronavirus' outbreak rises in the United States, heroes on the frontlines are taking the hardest hit: big companies in retail, food, and grocery industries are ending their Covid-19 hazard pay.
According to ProgressiveGrocer.com, unions are urging supermarkets chains such as The Kroger Co. to reinstate hazard pay, especially for Essential Workers, considering that Coronavirus confirmed cases nationwide are not slowing down and crossed recently the 3 million milestone.
The United Food and Commercial Workers International Union (UFCW), which represents 1.3 million workers in grocery stores and other businesses across the US, highlighted that companies are ignoring the simple fact that these Essential Workers are still on the frontlines of a growing pandemic.
"America's food retailers have ended hazard pay even as Covid-19 health risks have increased for grocery workers," said Marc Perrone, International President of UFCW.
ProgressiveGrocer.com reported that Kroger was among other companies that instituted special bonuses for frontline workers, such as Albertsons, Starbucks, CVS, Amazon, BJ's Wholesale Club, Dollar General, Target, Stater Bros., Stop & Shop, Whole Foods, and Walmart. The goal was to compensate employees for the risk of working during the pandemic
"Even worse, multi billion-dollar companies like Kroger are raking in record sales just weeks after cutting hazard pay for the very grocery workers who made that success possible", Perrone added. During the fiscal 2020 first quarter—ended May 23—, Kroger reported $41.5 billion in total sales, up 11.5% from $37.2 billion a year earlier.
UFCW reported on June 10 that 225 grocery workers have died and more than 29,000 have been sick or exposed to Covid-19, according to internal estimates. You can read more about UFCW's demand here: https://progressivegrocer.com/union-demands-food-retailers-reinstate-hazard-pay.
Despite their importance to keep the economy and communities moving during this pandemic, Essential Workers within these industries are among the lowest paid in the country. For example, the median hourly wage of a retail cashier is $11.37, agricultural workers earn $12.52, slaughters and meatpackers earn $14.05, and food processing workers' wage is $13.24 per hour, according to the US Bureau of Labor Statistics.
On May 6, 2020, Governor Newsom signed an Executive Order which made it easier for Essential Workers who contract Covid-19 to receive California Workers' Compensation benefits.
If you are in one of these industries and have been affected by Covid-19, call us today at 800-606-6999 or email us at essentialworker@pacificworkers.com.
Pacific Workers', The Lawyers for Injured Workers is Northern California's Premier Workers' Compensation Applicant firm. We represent First Responders, Health Care Workers, Construction Workers, Retail Workers, Warehouse Workers, Delivery Drivers, and the other hard-working people that keep our community moving in their Fight for Justice against the Insurance Companies.
With over 250+ Five Star Reviews, an incredible staff of caring, well-trained caring, advanced technology for superior client communication, a track record of an over 98% win rate and giving back to our community through the Pacific Workers' Foundation, it is easy to see why Pacific Workers' is the go-to law firm for all injured workers in Northern California.
If you or a loved one needs our help or just has a question, give us a call. We are here to help you.