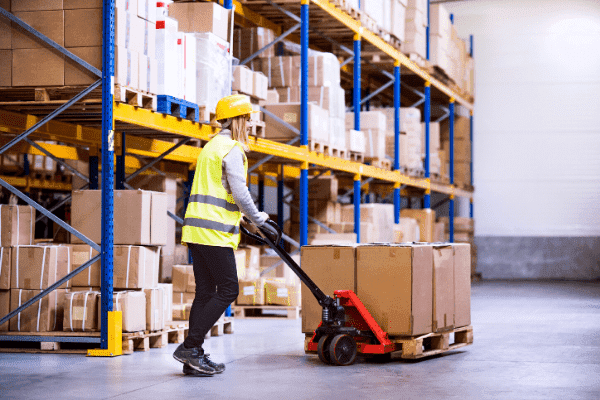 Amazon Under Fire After at Least 8 Employees Have Died of Covid
The e-commerce giant Amazon is under the spotlight for how it has been handling the Covid-19 pandemic in its warehouses despite the boom in online purchases due to the cities' lockdown. According to workers, there have been several outbreaks in different facilities and there is a lack of transparency regarding how many of their colleagues are infected.
Until the end of May, at least eight Amazon employees have died of Covid-19 nationwide. But because of the company's decision to not disclosing the number of infected workers, the overall figure is unknown, which prevents workers from making informed decisions and forces them to keep their own tally.
In Minnesota, the company has reported higher infection rates in the Shakopee facility—known as MSP1—than the surrounding community. This contradicts previous corporate messaging from top executives saying that infection rates in warehouses were lower than the cities where they operate.
According to an internal memo obtained by CNBC, issued in mid-May, at least 45 workers at MSP1 were diagnosed with Covid-19, which results in a rate of infection of 1.7%, higher than the 0.1% rate in Scott County, where the facility is located.
As of June 30, the Minnesota Department of Health reported 92 total cases at MSP1 and 198 confirmed cases throughout other facilities in Minnesota.
In New York, after the death of an employee's relative, workers in the JFK8 fulfillment center in Staten Island sued Amazon for failing to implement adequate safety measures and tracing ill workers' interactions. According to the complaint, there has been 44 cases of Covid-19 infected employees at the warehouse.
"The largest corporation in the world has been profiting off the Covid-19 crisis while leaving its workers unprotected and at risk of getting sick and even dying," said Deborah Axt, co-executive director at the New York union Make The Road.
In Southern California, in the Inland Empire region, workers demand better protection as Covid-19 cases grow. According to an article published recently by the Desert Sun, workers gathered information about case notifications to employees at facilities in San Bernardino and Riverside counties. They counted at least 60 confirmed cases among workers between March and mid-June.
So far, reported CNBC, Amazon has declined to disclose the total numbers of deaths and infections at warehouses arguing those figures are not useful. Workers and at least 13 state attorney generals have urged the company to provide this information.
Amazon says that it has been doing the following for employees against the Coronavirus:
Offering a special one-time Thank You bonus to all frontline employees and partners who worked throughout June. The bonuses totals over $500 million.
Investing $4 billion on Covid-related initiatives, including $800 million in the first half of this year on safety measures like temperature checks, masks, gloves, enhanced cleaning and sanitization, extended pay and benefits options, testing, and more.
Distributing personal protective gear and implementing disinfectant spraying and temperature checks across its operations worldwide.
Offering up to two weeks of paid time off to diagnosed or quarantined workers. This, in addition to other paid and unpaid time off options.
In California, warehouse workers at companies like Amazon are considered Essential Workers. Under Gavin Newsom's Order, Essential Workers' are entitled to Workers' Compensation if they get infected from Covid-19.
If you are in this industry and have been affected by Covid-19, you can call today at 888-740-6434 or email EssentialWorker@pacificworkers.com.
Pacific Workers', The Lawyers for Injured Workers is Northern California's Premier Workers' Compensation Applicant firm. We represent First Responders, Health Care Workers, Construction Workers, Retail Workers, Warehouse Workers, Delivery Drivers, and the other hard-working people that keep our community moving in their Fight for Justice against the Insurance Companies.
With over 250+ Five Star Reviews, an incredible staff of caring, well-trained caring, advanced technology for superior client communication, a track record of an over 96% win rate and giving back to our community through the Pacific Workers' Foundation, it is easy to see why Pacific Workers' is the go-to law firm for all injured workers in Northern California.
If you or a loved one needs our help or just has a question, give us a call. We are here to serve.