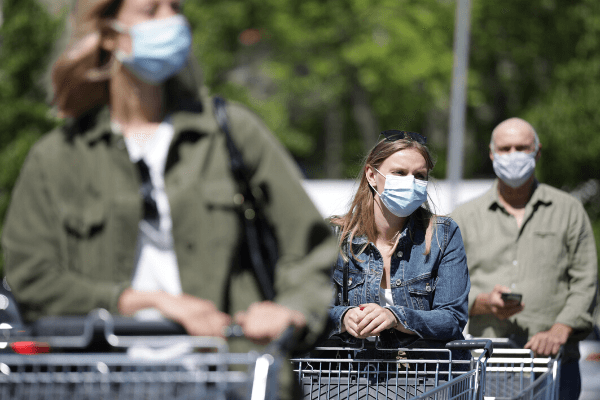 3 Things You Should Do Today if Your Retail Customer Refuses to Wear a Mask
We better get used to it: Covid-19 is here to stay for a while, as are the health and safety measures in almost all our daily activities.
If you work in a grocery store, a supermarket, or a retail store, you probably have faced directly, seen YouTube videos, or heard about customers not willing to wear masks when shopping. It is a stressful situation, but know that you have the store managers and authorities on your side.
In California, Governor Newsom issued a statewide mandate on June 18th that requires Californians to wear face coverings in high-risk settings, including stores. You can read about that here Guidance for the Use of Face Coverings.
Unfortunately, incidents involving mask rage are expected to continue happening. According to ProgressiveGrocer.com, there is even one case of the alleged murder of a Family Dollar security guard in Michigan who refused to grant entry to a customer not wearing a mask.
Here is a list of 3 things you can do if dealing with a customer who refuses to wear a mask.
1. Know your store's policy
Whether it is mandated or not by state authorities, most of the big retailers require the use of masks or facial covering in stores for all associates, vendors, employees, and shoppers. If customers do not have masks, some of the companies provide them.
According to the CDC, employers are obligated to provide their employees with personal protective equipment (PPE) to keep them safe while performing their jobs. The type of PPE will depend on the risk of being infected by Covid-19 and job tasks that may lead to exposure.
PPE includes respiratory protection, face shields, masks, gloves, and goggles. They should be consistently and properly worn, and regularly inspected and replaced.
If your company does not have a policy, speak up! Ask for training on how to handle mask rage, make sure there is a protocol of action.
2. Be firm, but respectful
With the Covid-19 lockdown and higher summer temperatures, people might be stressed. Some of them have also lost their jobs, others had income losses, and the new mandate for the use of masks can add to the sense of stress and oppression.
If you are dealing with a customer who refuses to wear a mask, politely explain to him/her the store's policy and the statewide mandate. For some people, this measure might be considered inconvenient or objectionable, but now it is not a matter of personal choice. Be clear in saying that without a mask, customers can't enter the store.
"A face covering protects not just the wearer but others, too," says Costco's policy.
3. Don't just handle the situation by yourself, get a store manager
According to experts in protocol consulted by the San Francisco Chronicle, avoiding conflict is always the safest course of action. Never engage in confrontation. If the customer becomes aggressive and there is a confrontation, ask for help from the store manager. Let him/her handle the situation according to the protocols. Ultimately, if needed call the police.
If you have been infected or affected by Covid-19, call today 800-606-6999 or email us at essentialworker@pacificworkers.com.
Pacific Workers', The Lawyers for Injured Workers is Northern California's Premier Workers' Compensation Applicant firm. We represent First Responders, Health Care Workers, Construction Workers, Retail Workers, Warehouse Workers, Delivery Drivers, and the other hard-working people that keep our community moving in their Fight for Justice against the Insurance Companies.
With over 250+ Five Star Reviews, an incredible staff of caring, well-trained, advanced technology for superior client communication, a track record of an over 98% win rate and giving back to our community through the Pacific Workers' Foundation, it is easy to see why Pacific Workers' is the go-to law firm for all injured workers in Northern California.
If you or a loved one needs our help or just has a question, give us a call. We are here to help.