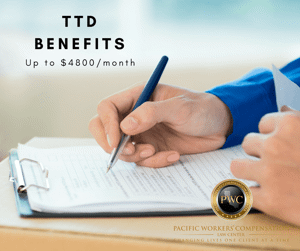 Did you know that up to $4800 a month is available in Total Temporary Disability? Total Temporary Disability (TTD) is available for injured workers in California Workers' Compensation Cases if they are unable to work. Of course, this isn't available in all cases. The claim must be accepted by the insurance company. Unfortunately, many claims are denied, and there is virtually no penalty against the insurance company for wrongfully denying a claim. Furthermore, the PTP or Treating Physician on your case must state that you are unable to work. If your doctor says that you are unable to work, and the claim is accepted, the insurance company must pay you two-thirds of your average weekly wage (up to approximately $4800 per month) while you recover from your injuries.
If your claim is denied, the insurance company has no duty to pay you until the court forces an acceptance. This can be very difficult because of the delays. The basic requirement is that the court must see from a Qualified Medical Examiner (QME) that your injury happened in the course and scope of your employment. On occasions, there are some other ways to prove AOE/COE (Arising Out of Employment/Course of Employment), but often we simply have to wait for a QME Report. This can take many months.
TTD can also be available even if the doctor sends you back to work with work restrictions. If your job cannot accommodate work with modified duty, then you can also receive two-thirds of your average weekly wage. You can receive TTD for up two years, or until you are well enough to return to work.
To learn more about the benefits available in California Workers' Compensation Claims for injured workers, call Pacific Workers' Compensation Law Center.
With a combined 75+ Years of Legal Expertise in California Workers' Compensation, PWC is the leader in representing injured workers in Northern California Workers' Compensation cases.