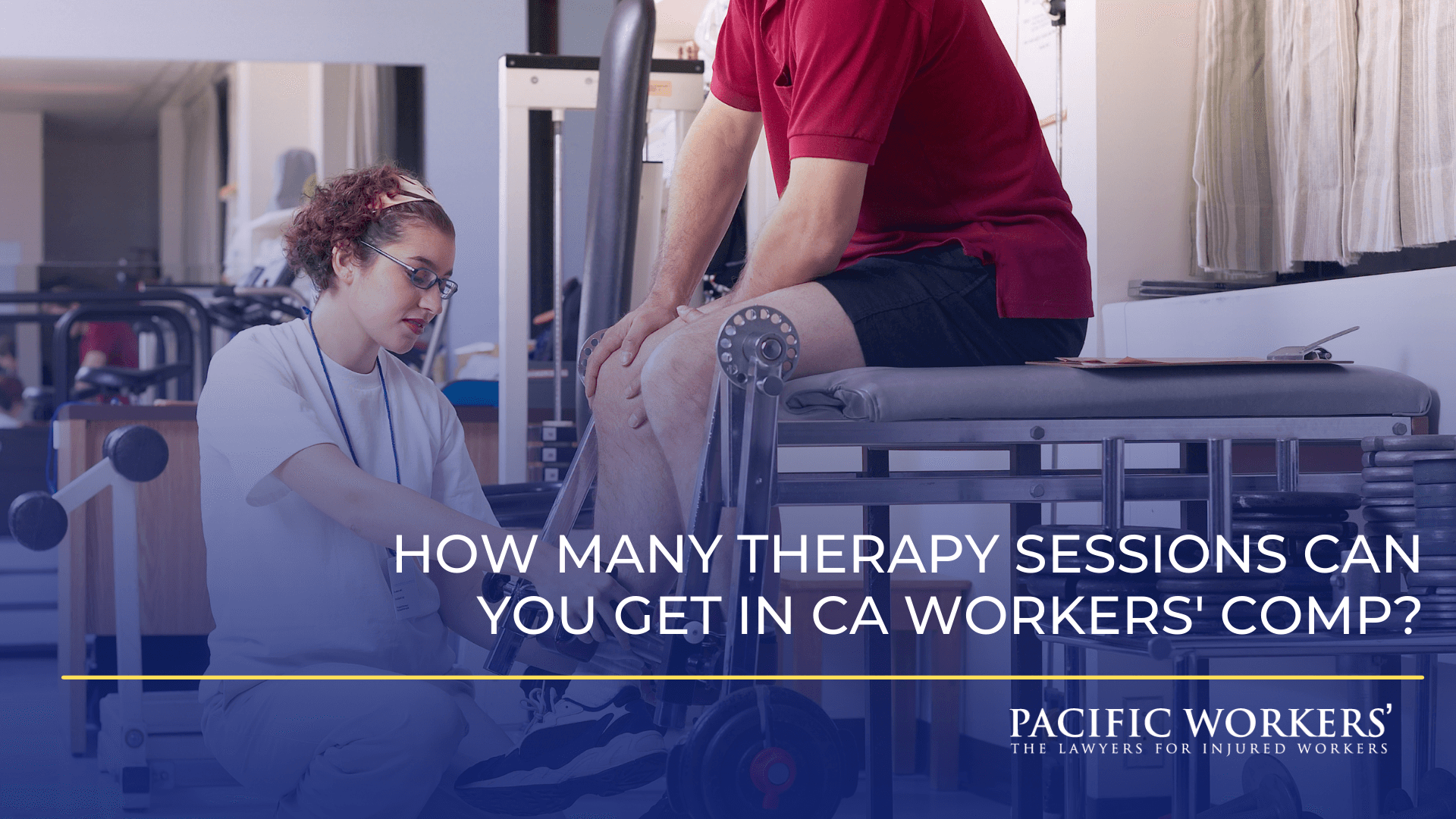 Even the finest medical professionals sometimes can't do much to speed up recovery from an injury or illness. In some cases, the body just can't get any better and further treatment might not be possible. For others, the recovery comes much faster with the right therapy sessions. The more therapy sessions you have, the closer you are to fully recovering.  
In this blog, find out if there are any restrictions on the number of sessions you are entitled to.  
Summary:  
What Are the Limits?   
I Want to Continue Seeing My Doctor. What Should I Do?    
If I Return to Work, Should I Stop Seeing My Doctor?    
Can I Have Physical Therapy While Still Receiving Workers' Comp?   
1. What Are the Limits?
After 2004 in California, you have limits regarding the number of chiropractic, physical therapy, and occupational therapy sessions you may receive for work-related injuries. The limit is 24 sessions. Even if you require more follow-up sessions, you cannot exceed this amount.   
Check out California's Workers' Compensation website for more coverage requirements.   
In complex situations, we often see insurance adjusters manually exceeding the limit to give the care needed to injured workers. Because the insurance company wants as little liability as possible to save money, they sometimes want to fix everything through many physical therapy sessions even when they know things are not improving.  
Despite the insurance company doing everything to improve the worker's health, they cannot maintain limitless sessions forever. If you have a primary chiropractic doctor as your physician and have too many sessions, you may have to change physicians or not receive care anymore.   
There is a 24-session count for your case, and it does not reset after a certain period. Unfortunately, this is just the limit. But do not worry. It does not mean you have to stop your treatment. Stick around to know what to do if you want to keep seeing your doctor. 
2. I Want to Continue Seeing My Doctor. What Should I Do? 
In case your insurance provider does not have an MPN, you may switch to a personal chiropractor or acupuncturist after an on-the-job injury or illness. You must give a form to the insurance carrier called the Notice of Personal Chiropractor or Personal Acupuncturist. This is only when there is no MPN List. However, you are still limited to 24 visits.
It's important to know when is smart to get one of these sessions. Do not waste any sessions on something you do not need.  
3.If I Return to Work, Should I Stop Seeing My Doctor?
There is no set time when you must stop seeing your physician; you should keep consulting your doctor until you feel 100% fine. The level at which a particular injury or sickness is treated will vary, so it is critical to keep track of your condition and its modifications over time.   
If you notice that a certain therapy or remedy starts to lose effectiveness, you have reached a point of diminishing returns. Speak to your doctor and try to also focus on resting and recuperating as much as possible. This way, your body can heal itself and you can start feeling better. 
4. Can I Have Physical Therapy While Still Receiving Workers' Comp?  
Yes, you can still receive benefits while undergoing physical therapy in most cases. Physical therapy is beneficial for returning to work and preventing disability denials, as it can help you avoid future problems. Your physician can determine your treatment, even though Workers' Comp does not guarantee any particular treatment.  
Talk with your doctor about how frequently and what kind of treatments you are receiving. You may also want to ask your physician how much time you have left to finish your therapy and return to work.  
5. Exceptions
There are a few exceptions to this rule. The 24 sessions limit does not apply to post physical medicine visits prescribed by the surgeon. For example, someone that has had a Lumbar Fusion Surgery and then needs physical medicine visits after, the 24 session limit does not apply in this case. 
Bottom Line  
Nothing is worse than being prepared for a therapy session and being cut short because the number of sessions allowed from the CA Workers' Comp system has been maxed out.  
Whether you want to finish your sessions or keep going with a particular doctor, it is good to know where you are standing. Stay on track of the number of sessions you have left, this way, you can think of a plan before that limit gets exceeded and you're left with no help. 
If you need help with your treatment or require additional legal help, you can reach us for free on 800-606-6999 or make an appointment here.   
Pacific Workers', The Lawyers for Injured Workers in Northern California's Premier Workers' Compensation Law Firm. Representing First Responders, Health Care Workers, Construction Workers, Delivery Workers, Warehouse Workers, and all the hard-working people that keep our community moving in their Fight for Justice against the Insurance Companies.     
With over 250+ Five Star Reviews; an incredible staff of caring, well-trained, advanced technology for superior client communication: a track record of an over 98%-win rate and giving back to our community through the Pacific Workers' Foundation, it is easy to see why Pacific Workers' is the go-to law firm for all injured workers in Northern California. Offices in Oakland, Concord, Stockton, Tracy, San Jose, and Sacramento.     
If you or a loved one need help or just have a question, give us a call on 800-606-6999 or email us at Intakes@pacificworkers.com.