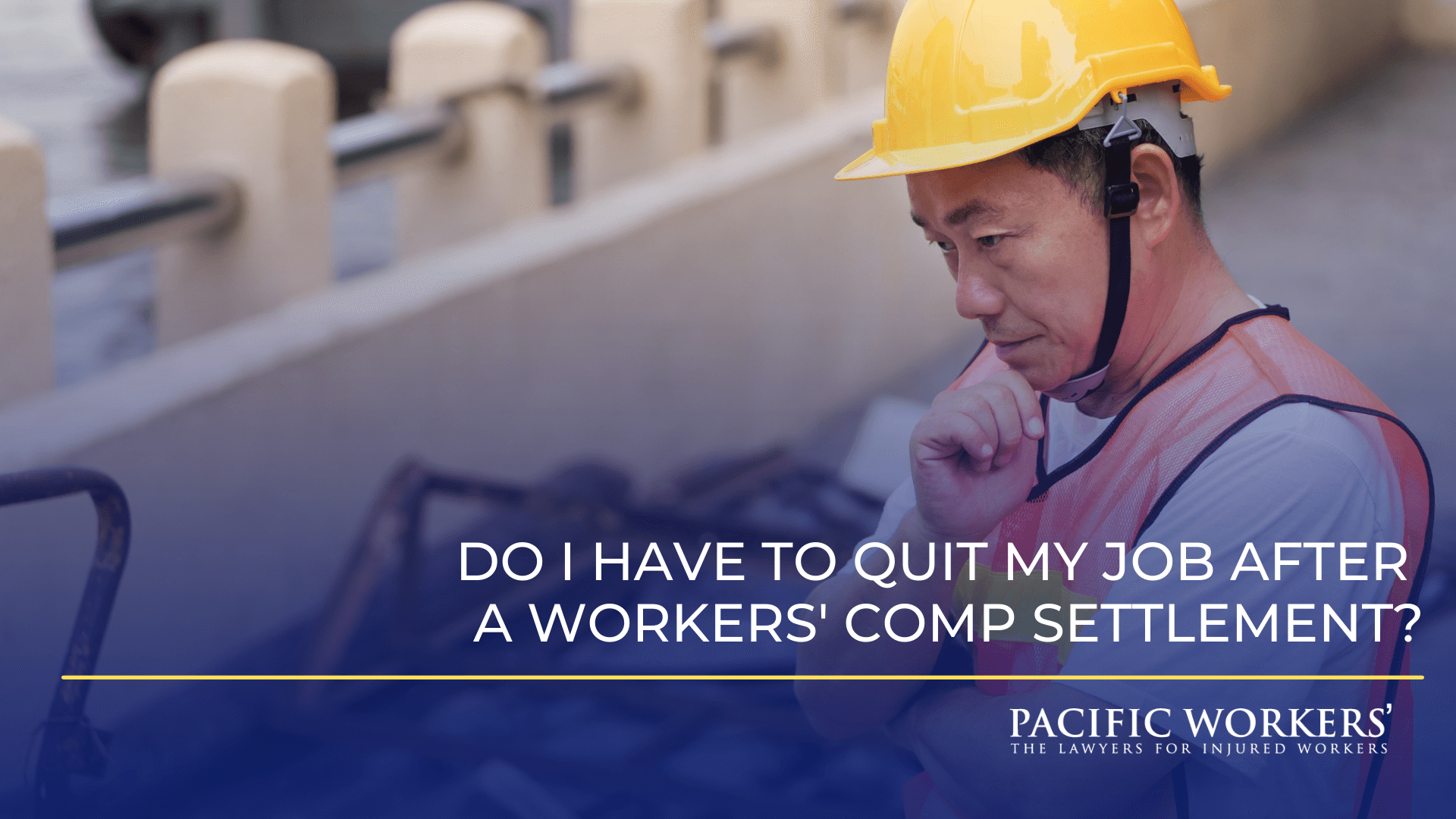 Dealing with a work injury is a difficult and stressful experience. Especially if you must weigh whether to accept a settlement offer from your employer and stop working or continue to pursue your job.  
So now you may be wondering, how am I supposed to support my family on a settlement amount that isn't quite enough? Should I quit my job? 
You do not need to quit your job if your employer does not require you to. However, you should consider some factors. In this article, we'll discuss three things you must contemplate when dealing with a settlement.  
Summary: 
1. Taking a settlement doesn't mean they want you out   
2. What happens if I don't want to resign? 
3. If I go back to work, can I get in trouble with the Insurance company?   
1. Taking a settlement doesn't mean they want you out 
First and foremost, do not take it personally. Although some workers might think they're being asked to resign when an insurance company offers them a settlement, this is usually not the case. Normally, employers just want their employees to be able to stay at work.   
From an insurance company's perspective, a C&R (Compromise & Release) Settlement is easier to offer when the employee has resigned. That is, the settlements usually involve a lump sum payment for disability and medical care coverage. And this can be harder to obtain if you are still employed by the company and get hurt again. 
For example, if you had a settlement of $100,000 after an accident on the job, at least half the sum was likely earmarked for future medical treatment. However, if you return to work and hurt yourself in the same way, there may be some disagreement with your insurance company. Why? because they will have to pay your medical bills again. 
If the insurance company is asking for your resignation, it is because they want to avoid paying out on a claim if you were to sustain the same injury again. However, if both you and your employer are confident that the injury is not likely to recur, it may be possible to skip resignation. 
2. What happens if I don't want to resign? 
When an incident occurs in the workplace, it is not uncommon for an insurance company to ask employees to resign in order to secure a Compromise and Release Settlement. However, this does not mean that you must accept such an arrangement. When insurance companies buy out your medical care in the event of a claim, they may worry that reinjury will cause them to lose money. 
It means they are still liable for the debt and will have to run again through the process. As a result, the insurance focuses on the resignation while wanting to ensure that financial risk is not a key factor. 
Some people plan to leave their jobs regardless, while others are in a position they've loved and cherished, and even worked hard at them for decades. They do not want to give up their job, especially if the amount of money they're receiving is less than adequate. 
In most cases, an employer cannot force you to resign. And you may want to return to work once your medical care is complete and your restrictions are lifted. You may, however, want to return to work once your medical care is complete and your restrictions are lifted. But if you do, your employer must provide future medical care as well as Permanent Disability benefits. 
3. If I go back to work, can I get in trouble with the Insurance company? 
No. There are no legal repercussions for submitting a resignation and returning to work the next day. In many cases, employers wish that employees who resign do not leave and will encourage them to remain with the organization. The insurance company cannot force you to stay out of the job.  
If an employer wants to rehire a worker, they can do so. In some cases, this is beneficial to both parties: the employer does not have to train another employee, and the insurance company helps the worker get their settlement and get back on their feet. 
Conclusion 
When you suffer an injury at work, you and your employer will likely have some decisions to make. Should you take a settlement from the insurance company and leave your job, or should you continue working in hopes of recovering and returning to your previous position?  
The answer depends on the wishes of both parties involved and the extent of your injuries. In most cases, you don't have to resign your position. However, what you should do depends on your personal situation and the outcome you're expecting. 
Regardless of your situation, dealing with insurance companies is a difficult and tedious process. You don't have to do it alone! We will assist you in getting the best settlement for your situation and, if it's your desire, keep your job. 
Get in touch for free at 800-606-6999 or make an appointment here.  
Pacific Workers', The Lawyers for Injured Workers in Northern California's Premier Workers' Compensation Law Firm. Representing First Responders, Health Care Workers, Construction Workers, Delivery Workers, Warehouse Workers, and all the hard-working people that keep our community moving in their Fight for Justice against the Insurance Companies.    
With over 250+ Five Star Reviews; an incredible staff of caring, well-trained, advanced technology for superior client communication: a track record of an over 98%-win rate and giving back to our community through the Pacific Workers' Foundation, it is easy to see why Pacific Workers' is the go-to law firm for all injured workers in Northern California. Offices in Oakland, Concord, Stockton, Tracy, San Jose, and Sacramento. 
If you or a loved one need help or just have a question, give us a call at 800-606-6999 or email us at Intakes@pacificworkers.com.