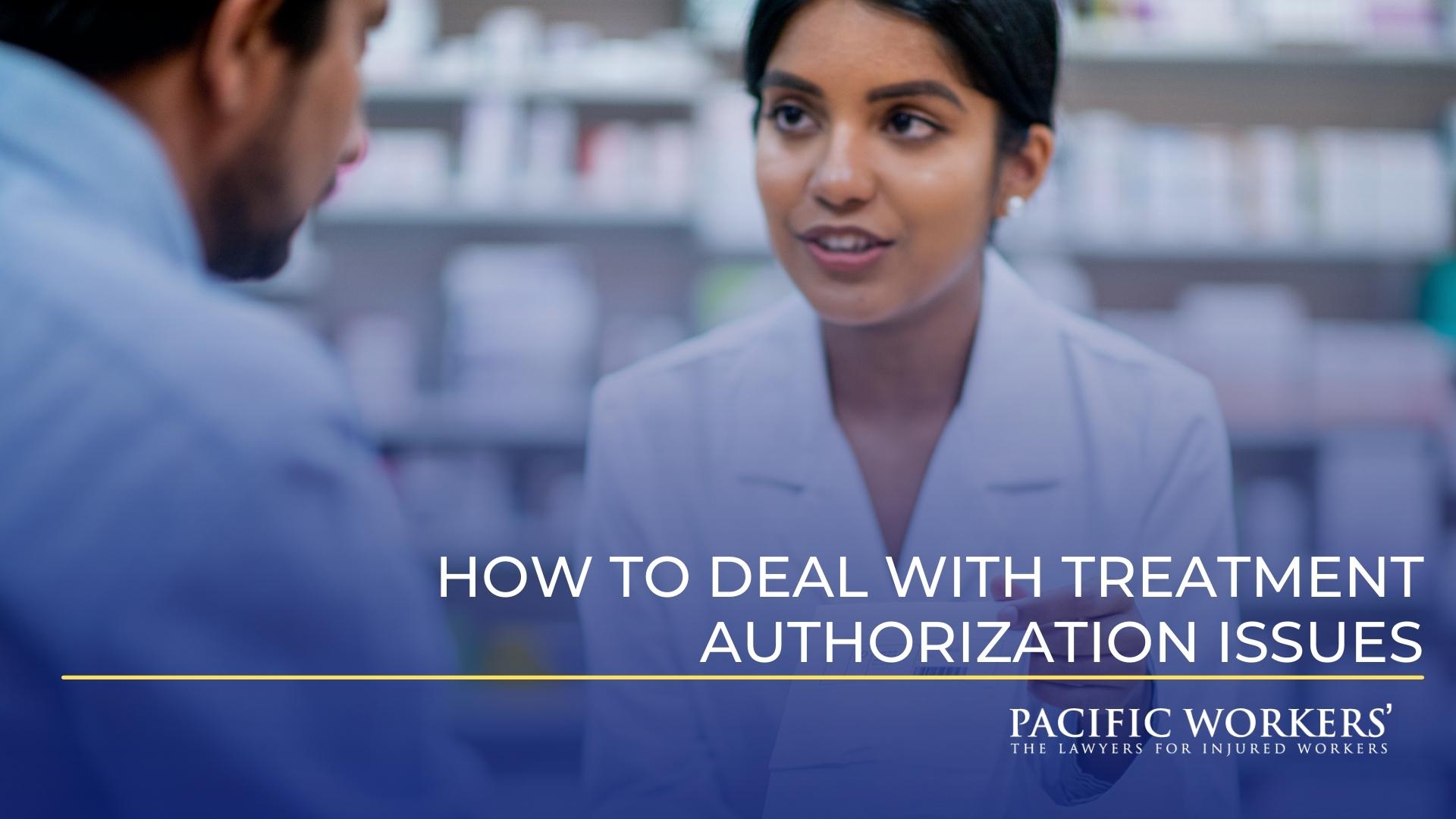 One of the essential matters in Workers' Comp cases is the treatment of work injury authorization. It is a significant and quite common issue in this legal system.   
If you are currently in a claim process involving any kind of treatment, surely you will deal with authorization issues. Do you want to be ahead of it? Find valuable information to help you do so in the next paragraphs. 
Your Treatment Needs Authorization 
In Workers' Compensation, there is something called Utilization Review (UR). It is a mechanism where the insurance company reviews the treatment authorization. After this inspection, the insurance company can either authorize or deny the treatment requested by the doctor treating you. 
This review applies to a variety of things, such as: 
Surgeries 
MRIs  
EMG studies  
Physical Therapy 
Medication  
When your doctor gives you a prescription and requests authorization from the insurance company, this company may deny it. They can also authorize it partially, meaning they can fill only part of the prescription.   
For example, if your doctor prescribes 30 units of any pill, the insurance company may only authorize 15. That is, they can modify the authorization to be partial rather than a full one.   
If Your Treatments Are Denied 
If the treatment or prescription is denied, you can go through an Independent Medical Review (IMR). In other words, you appeal the decision of the insurance company denying the authorization, whether it was a partial or complete denial.  
If you receive a denial for the medication from IMR, then your treatment will not be authorized, and you will not get the medicine you need. Although, if it is partially authorized you can only get the recognized amount. 
Can't Get the Medicine from Your Pharmacy? 
Once you have the authorized prescription, you can meet another issue: getting the pharmacy to fill it. Sometimes medication will get authorized, but the decision is not communicated to the pharmacy opportunely.  
If this happens to you, there are two options to solve it:  
Talk to your insurance adjuster and ask for a resolution. If the adjuster is not available, ask for the supervisor.  
Assuming that you cannot find help from the adjusters and need the medication straight away, you can pay it out of pocket.  
This last option is a scary subject for most, considering that medications are expensive, and people are afraid they will not get their treatment authorized to pay it back. Yet, that is not usually the case. 
Paying Out of Pocket 
If you have your medication authorized, they have not received the authorization yet for whatever reason, and you end up paying it out of pocket, you are entitled to reimbursement.   
The best approach is to negotiate with the adjuster and try to remedy the situation through dialogue. Nevertheless, if the insurance company doesn't help you, you need to request reimbursement by going to court.  
Whenever your treatment authorization wasn't issued, or your pharmacy was not authorized in time, and there are no valid reasons, you are entitled to request penalties and sanctions. 
Waiting for Authorization 
Sometimes people cannot wait for the medicine, whether it is for heart disease, diabetes, high blood pressure, or any similar condition. In this decisive situation, we advise you not to wait for authorization.   
If you do have to pay out of pocket, do it. Don't be afraid. In most cases, you will get your money back. Your health is the most critical aspect to consider, so do what is best for your well-being. 
Conclusion 
You can find plenty of different scenarios with various outcomes related to treatment authorizations. You can get one straight away, you may have to wait for it, or you might even need to go to court to get it. What is common in all cases is that you need to act promptly. 
Don't wait around for the result. Be proactive. Get an attorney to help you deal with this. If you prefer not to, talk to the claims adjuster or their boss, or go straight to the WCAB and look for information and assistance.   
Don't rest on your laurels. It is fundamental that, if you need medication, you do all you can to get it fast. Your treatment is the top priority in your case. An attorney will ease your experience through this journey, so you can focus on regaining your health. Reach us for free at 800-606-6999.    
Pacific Workers', The Lawyers for Injured Workers in Northern California's Premier Workers' Compensation Law Firm. Representing First Responders, Health Care Workers, Construction Workers, Delivery Workers, Warehouse Workers, and all the hard-working people that keep our community moving in their Fight for Justice against the Insurance Companies.     
With over 250+ Five Star Reviews; an incredible staff of caring, well-trained, advanced technology for superior client communication: a track record of an over 98%-win rate, and giving back to our community through the Pacific Workers' Foundation, it is easy to see why Pacific Workers' is the go-to law firm for all injured workers in Northern California. Offices in Oakland, Concord, Stockton, Tracy, San Jose, and Sacramento.     
If you or a loved one need help or just have a question, give us a call at 800-606-6999 or email us at Intakes@pacificworkers.com.