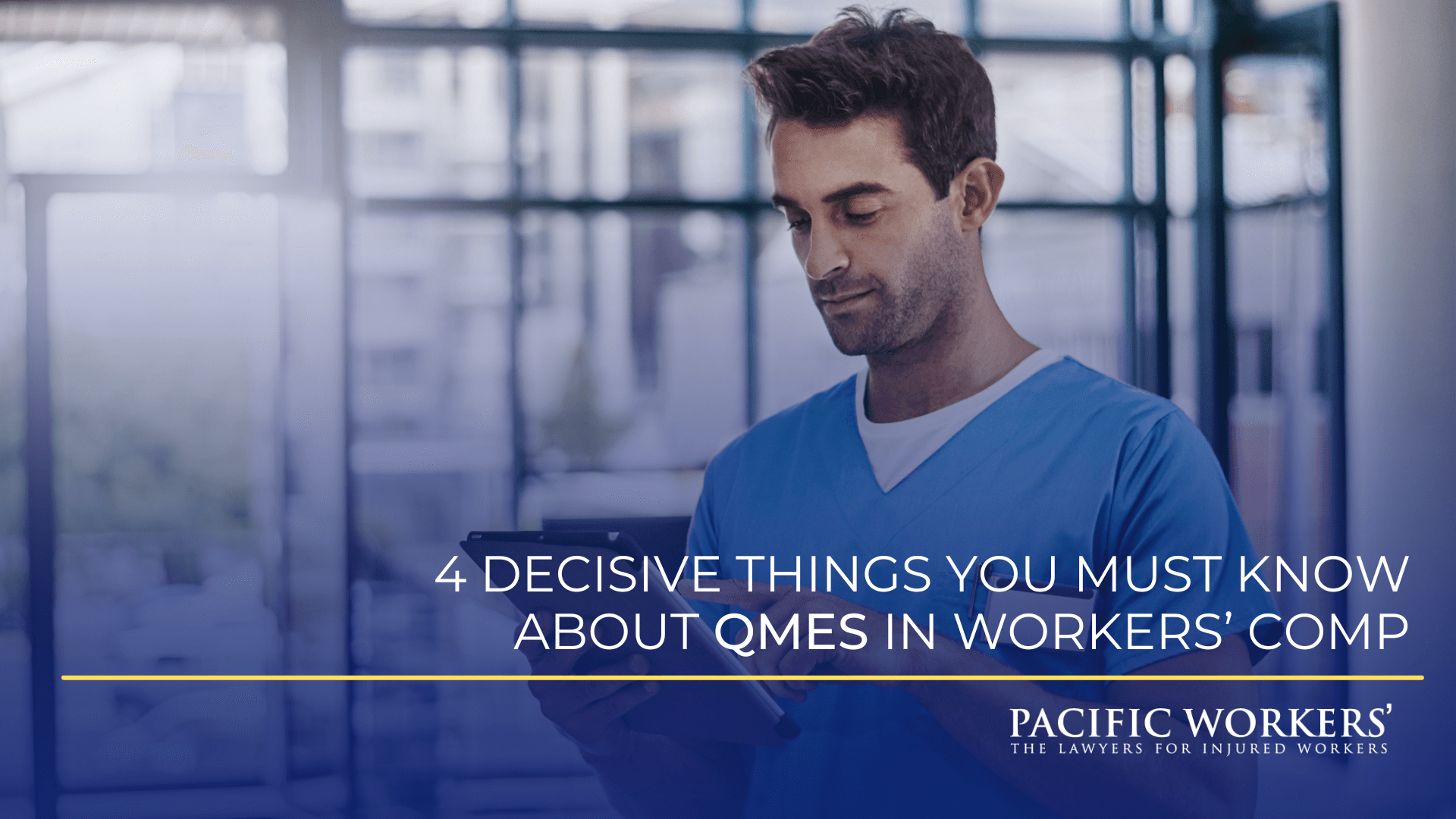 If you get injured on the job, you can always count on Workers' Comp to protect your rights. But getting the benefits you need isn't always easy. You and your physician may disagree about the care you need, or your employer may question whether you need treatment at all, leading to requesting a neutral professional opinion. In this case, you will need a QME. A QME (Qualified Medical Evaluator) will help you resolve the dispute and get the treatment you deserve. 
In these next paragraphs, you will find everything you need to know about QMEs, as well as how they can help you in your Workers' Comp case.  
Summary:  
1. What is a QME?  
2. Who can be a QME?  
3. Why do you need a QME?    
4. QMEs vs Treating Physicians: Main Differences 
1. What is a QME?  
QME stands for Qualified Medical Evaluator. A QME is a physician who evaluates your case when it isn't clear which Workers' Comp benefits you should receive. Sometimes there are disputes because your employer or the insurance company doesn't approve the treatment that your Primary Treating Physician (PTP) recommended. 
The job of the QME is to examine you, evaluate you, and write a thorough medical report about your case. These reports define the injured worker's eligibility for Workers' Comp benefits. QMEs include osteopathy doctors, chiropractic doctors, dentists, optometrists, podiatrists, psychologists, and acupuncturists. 
2. Who can be a QME?  
A QME is a doctor who has specifically trained to evaluate injured workers. They must meet educational and licensing requirements to qualify. Additionally, they need to pass a test and participate in continuing education courses that make them improve their skills and knowledge. The advantage of QMEs is that they are supposed to be impartial when assessing an injury and offer a neutral opinion on the case. 
These doctors can decide on aspects such as:  
Permanent Disability   
Medical treatment  
Disability status  
Work restrictions  
Whether the injury happened in the first place 
3. Why do you need a QME? 
Qualified Medical Evaluations are a critical aspect of the Workers' Compensation process. They ensure that insurance companies treat injured workers fairly and impartially.  
If the insurance denies your benefits or if you disagree with the benefits the insurance offers you, you can appeal to a QME. However, remember that a QME evaluation could either help or hurt your claim. It depends on what the evaluator and panel find relevant in your case. 
Take into consideration that not every case in Workers' Comp is approved. Sometimes claims are denied for fair reasons, but on a few occasions, they are not that fair. Unfortunately, some physicians may favor the insurance company.  
On some occasions, you can find doctors who are liberal, and their main goal is to assist you in your injury. But some of them are not like this. There are plenty of doctors that want to help the insurance company avoid paying your Workers' Comp benefits.  
In these instances, you need a neutral person to assist with the case, and that's what QMEs are for. If both you and the claims administrator agree with the treating physician's report, there is no need to attend a QME evaluation.   
4. QMEs vs Treating Physicians  
The main difference between treating physicians and QMEs is that treating physicians attend to your case, but do not necessarily make lengthy reports or examine your medical history. They only want to assess your current situation and cure your injuries. On the other hand, QMEs are responsible for reviewing your medical history and assessing your condition, then they will compose detailed reports summarizing their findings. 
A QME report is more trustworthy because it contains information about your health and Workers' Compensation status, two things that are difficult for a treating physician to determine. A physician can only give opinions on your health, but that's it. 
When you go to court, the judge must choose between the QMEs' thorough long report or a short-form report from the Primary Treating Physician (PTP). So, which one do you think they will choose? The one with the most information on your case.   
Conclusion 
When you have a work-related injury, you may have difficulty getting the Worker's Compensation benefits you deserve. While some people receive these benefits right away, others may go through a lengthy process.  
A qualified medical evaluator (QME) can help you by reevaluating your claim and getting the care you need. A QME can assess all types of injuries, from mild to severe. We know that understanding all of this is hard, especially if you are trying to get better from your injury.  
But don't worry, you don't have to carry all this weight alone. We can help you understand the process and protect your rights. Need help with your Qualified Medical Evaluation? Contact the best Workers' Comp Law Firm in Northern CA on 800-606-6999 or make an appointment here.    
Pacific Workers', The Lawyers for Injured Workers in Northern California's Premier Workers' Compensation Law Firm. Representing First Responders, Health Care Workers, Construction Workers, Delivery Workers, Warehouse Workers, and all the hard-working people that keep our community moving in their Fight for Justice against the Insurance Companies.  
With over 250+ Five Star Reviews; an incredible staff of caring, well-trained, advanced technology for superior client communication: a track record of an over 98%-win rate, and giving back to our community through the Pacific Workers' Foundation, it is easy to see why Pacific Workers' is the go-to law firm for all injured workers in Northern California. Offices in Oakland, Concord, Stockton, Tracy, San Jose, and Sacramento.  
If you or a loved one need help or just have a question, give us a call at 800-606-6999 or email us at Intakes@pacificworkers.com.