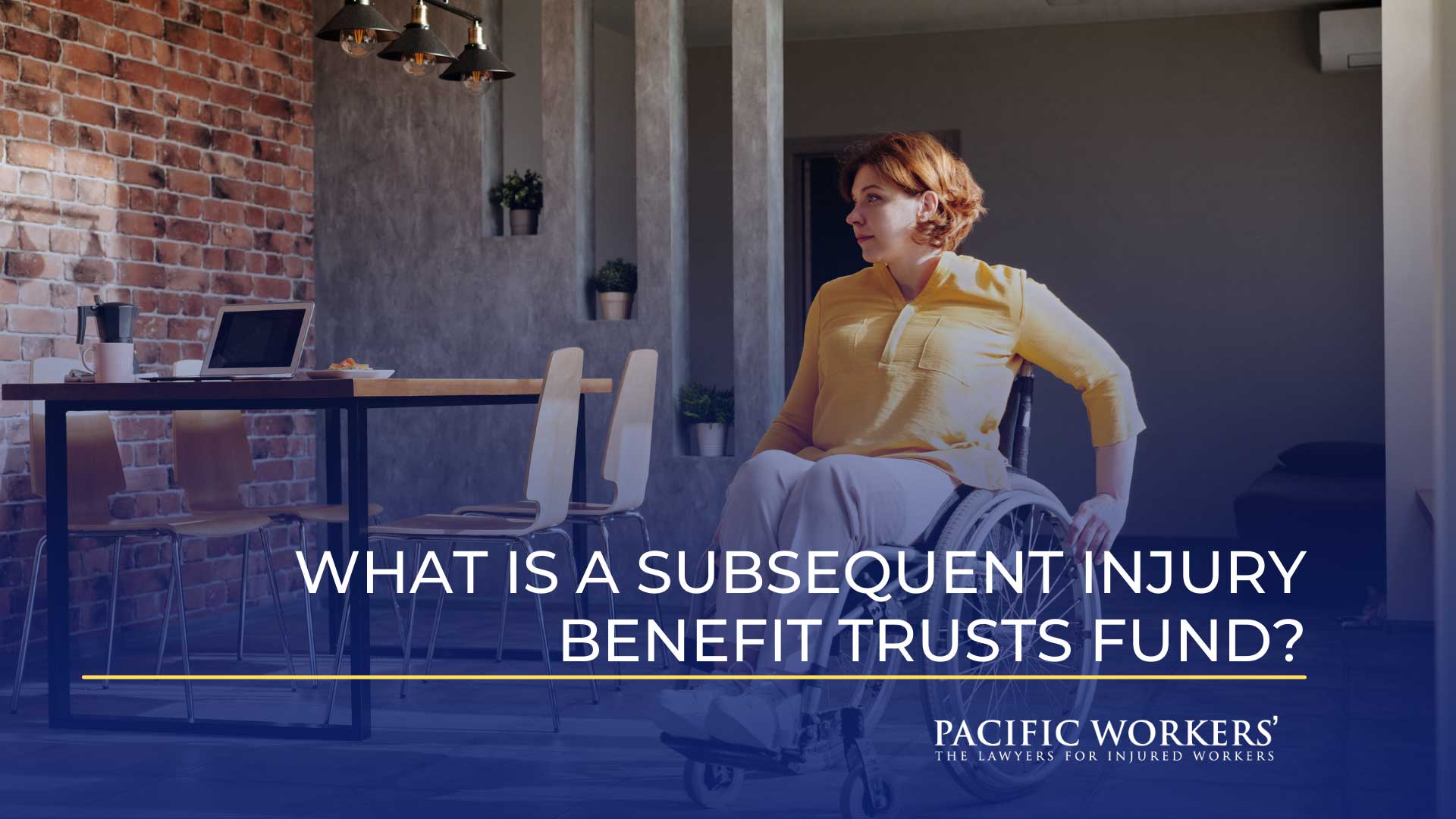 If you have pre-existing disabilities, you'd be happy to know that the California Division of Workers Compensation has established and administered a fund to encourage both employers to hire workers with disabilities, and employees with disabilities to seek employment. This fund is called SIBTF or Subsequent Injuries Benefits Trust Fund.
The great thing about SIBTF is that it achieves the goals above by providing great benefits to qualified injured workers. Usually, employers are protected from liability for pre-existing disabilities, thanks to the SIBTF.
However, if you do experience any injuries at work, it's best to reach out to a workplace injury attorney to see if there's anything that you can do to get properly compensated.
What Benefits Does the SIBTF Provide?
In essence, the SIBTF benefits are payments given by the State of California to the injured worker to compensate them for their pre-existing injuries while still providing service.
Who Is Qualified to Get SIBTF?
If you're an injured worker, you qualify for SIBTF and if they fall under the Labor Code 4751. This means that the injured worker has pre-existing disabilities that predate the compensable industrial injury.
However, the pre-existing disability should be labor-disabling or ratable and industrial or non-industrial. In addition, the combined effects of the subsequent injury and the pre-existing injury should be greater than or equal to 70 percent, and the combination of both injuries should be more significant than the effect of the subsequent injury alone.
Besides that, an employee must meet one to two of these thresholds:
● The 35 Percent Requirement: Their permanent disability from the subsequent injury should be 35 percent or even higher;
● The Opposite and Corresponding Requirement: Pre-existing disabilities affect an extremity or an eye, and the permanent disability affects the subsequent injury, making the corresponding member 5 percent or higher;
To summarize everything:
● An employee should have a prior or partial disability and subsequent compensable injury;
● The disability caused the degree disability must be greater than the subsequent injury alone;
● The effects of pre-existing disability and the subsequent injury must be equal to or more than 70 percent;
● The previous disability or impairment should have affected their arm, hand, leg, foot, or eye, and is affecting the subsequent injury 5 percent more or higher in total:
● When considered alone, the permanent disability resulting from the subsequent injury is equal to 35 percent or more in total.
You should remember that the term " Subsequent Injury" refers to an industrial injury, while "Pre-existing Disability" can be industrial or non-industrial. The injury is "subsequent" because the employee must have a pre-existing disability before getting this injury.
Seeing as many people are still confused about the SIBTF, it's best to work with a workplace injury attorney since they'll be equipped with the right knowledge to assist you with your workplace injury case.
The Bottom Line: Work With a Reputable Workplace Injury Attorney
There's no doubt that the SIBTF can provide many benefits to both the employer and employee. However, knowing if you qualified for the fund or compensation can indeed be quite confusing. That's why it's best to reach out to a workplace injury attorney to ensure that you're getting properly compensated and you're receiving the benefits of your SIBTF fully.
How Can Pacific Workers Help You?
Pacific Workers', The Lawyers for Injured Workers offer legal services, such as workers' compensation for business professionals, airline workers, firefighters, health workers, police officers, union workers, and more.
Are you looking for a workplace injury attorney? Give us a call today at 800-606-6999 and get a free consultation!