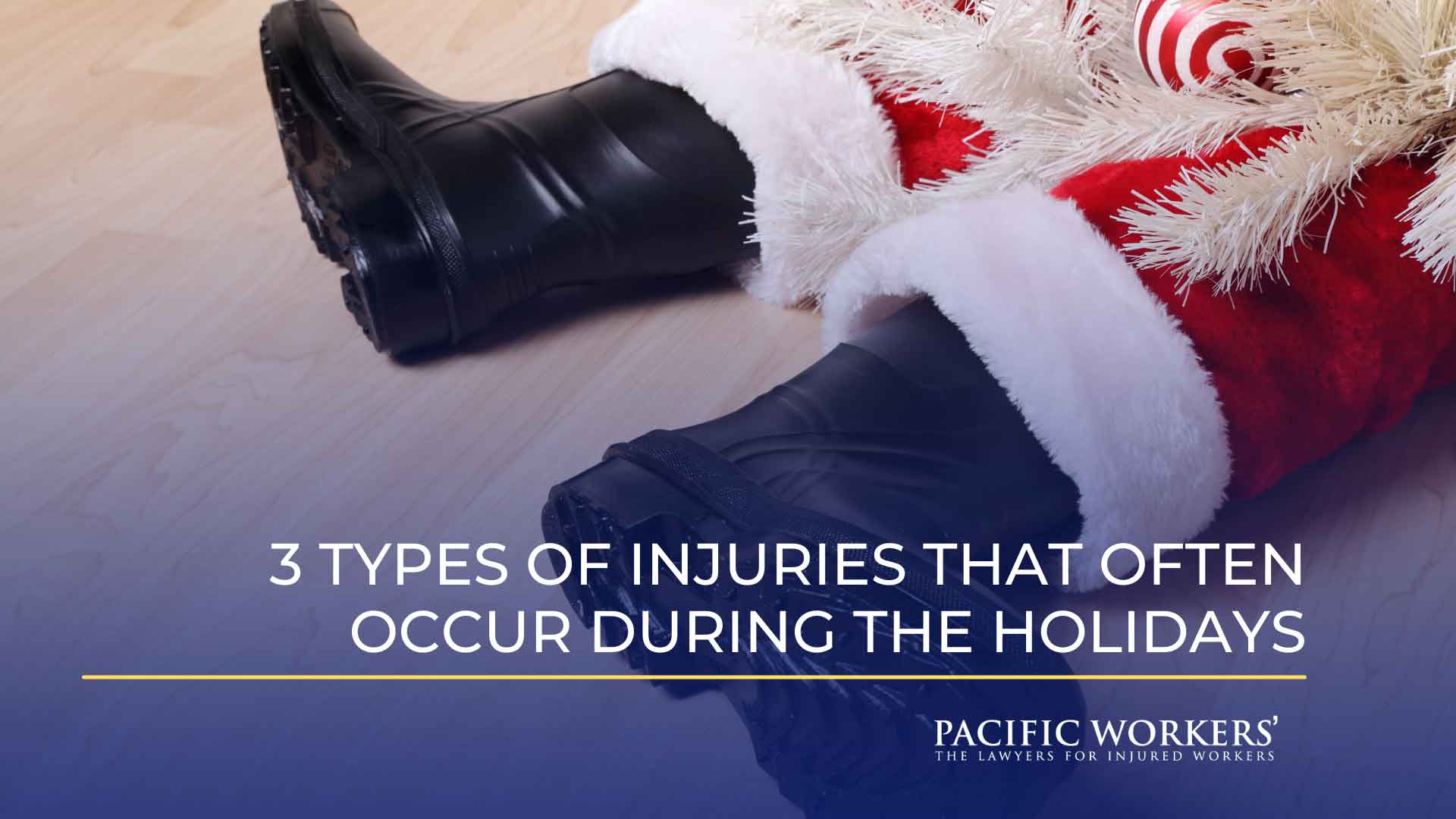 Everyone looks forward to visiting family, enjoying indulgent meals, and maybe even getting a few gifts over the Holiday season. Many people enjoy going the extra mile to make the season special, whether that means hosting dinner parties or decorating with lavish holiday décor.
Beyond the festive merriment, the increased activity around the holiday season means injuries are common, both at home and in the workplace. Everyone should consider safety concerns whether they are traveling long distances in adverse weather conditions, decorating for the holidays, or celebrating at a party.
Here are some common injuries you want to avoid this festive season:
Accidents From Falling Holiday Decorations
Falling holiday decorations are expected to be the most common cause of injury every year. This year, as more people are still at home tin the holidays, we are likely to see plenty of decorations as people try to make the season feel festive. Because of this, the dangers of holiday decorations and lights are more than you may imagine. According to the Consumer Product Safety Commission (CPSC), these trinkets are responsible for more than 12,000 emergency department visits each year owing to falls, wounds, and shocks.
When you're dealing with a large tree and a shaky ladder, decorating a Christmas tree may be a complicated process to complete. To prevent falls that might result in severe injuries, decorators should always ensure that the ladder is on stable ground and that a friend or family member holds it steady while working.
Roadside Incidents From Dangerous Driving
The last three months of the year represent somewhat of a perfect storm in terms of automobile accidents. Rain, and fog can create hazardous driving conditions on the roads. Highway visibility is typically worse during the winter months due to shorter daylight hours. Families are more likely to travel long distances during the winter months, and company representatives may be travelling to wrap up end-of-year duties before going on holiday.
According to the National Highway Traffic Safety Administration, as a result of these factors, the months of October, November, and December account for a disproportionate forty percent of all pedestrian accidents each year. Thirty-five people are killed every year, and more than 2,300 others are injured in motor vehicle accidents throughout Thanksgiving holiday. Alcohol was a factor in 15 fatalities and 425 injuries, according to the report.
Passengers may readily improve their safety by crossing streets at clearly defined crosswalks that are accompanied by traffic lights, for example. The situation is far more challenging for car drivers, who must contend with road conditions, visibility, and traffic flow in addition to other factors. Drivers' safety is often dependent on a combination of factors, including having the proper equipment and being alert to the road and other drivers.
Should the worst case scenario occur, make sure you get the compensation you deserve by working with a car accident lawyer.
Fires and Explosions
When you're juggling platters of turkey, mashed potatoes, stuffing, and other delectable holiday dishes, the risk of kitchen burns is obvious. To minimize severe burn injuries, all cooks and sous-chefs should have a supply of oven gloves on hand at all times, and they should avoid lifting or transporting large platters or trays without assistance.
When decorating your home or office, be sure to double check that the limbs of a live Christmas tree have not been dried out before purchasing it, and avoid putting it near a fireplace or furnace if at all possible. Choose an artificial tree only after confirming that it is not combustible by reading the label carefully.
Final Thoughts
The holidays are a joyous time of year filled with enjoyable activities such as decorating, putting up Christmas trees, and spending time with family. Aside from decorating the office for the holidays, it is an excellent time to unwind with colleagues, take advantage of the time off with friends, and commemorate the important people and things to you. Unfortunately, this is also a typical year for car accidents and unexpected visits to the emergency department. Knowing the kind of typical injuries that might occur will help you prepare for the worst-case scenario.
If you experience a common holiday injury while at work, it's important for you to get the compensation you deserve for your recovery. Seek assistance from a work accident lawyer and keep the unfortunate circumstance from putting a damper on your holiday festivities. Call us at 800-606-6999 for a free consultation!