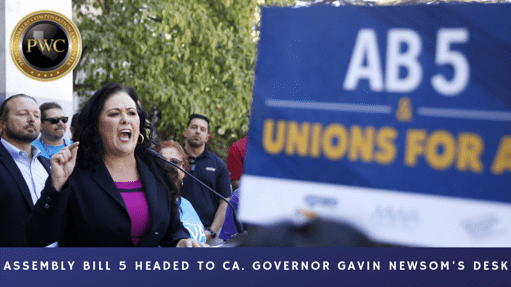 On September 11, the State Senate passed the measure known as Assembly Bill 5 which threatens to reshape how companies like Uber, Lyft, and Doordash do business. Assembly Bill 5 is now headed to California Governor Gavin Newsom's desk and if approved it may change the way these companies classify most of their workers as independent contractors.
The California Labor Federation said in a post to their Twitter account, " This is a huge win for workers across the nation! It's time to rebuild the middle class and ensure ALL workers have the basic protections they deserve."
As an employee, rather than an independent contractor, a worker is entitled to unemployment benefits and is expected to deposit money into the statewide fund.

The bill who was created by Lorena Gonzalez, an assemblywoman from San Diego, aims to codify a ruling last year from the state Supreme Court. The bill sums up this distinction in the following way:
A person providing labor or services for remuneration shall be considered an employee rather than an independent contractor unless the hiring entity demonstrates that the person is free from the control and direction of the hiring entity in connection with the performance of the work, the person performs work that is outside the usual course of the hiring entity's business, and the person is customarily engaged in an independently established trade, occupation or business.
Who is exempt from this Bill?
The bill does carry some exceptions for some occupations, including licensed insurance agents, commercial fishermen, and investment advisers, among others. Construction truckers are also exempt from the bill's provisions, though the trucking industry, in general, is not.

What happens to Uber and Lyft drivers if they are categorized as employees?
Depends on whom you ask. The companies say it would fundamentally change the rideshare industry's hiring practices, forcing them to move to "on-demand employment," which has never been done.
It would likely mean the companies would take on fewer drivers, and assign shifts much as a restaurant or retailer might schedule workers. The companies say that drivers would lose a primary attraction of the platform — flexibility.
The company says it would block drivers from signing on when the number of drivers outstrips demand, for example in a quiet neighborhood during off-peak hours. Uber and Lyft warn that riders could see higher costs and longer wait times. Riders in transit deserts, they warn, could lose service entirely.
If AB5 is approved, analysts widely expect Uber to pass the costs associated with the bill on to consumers, resulting in fare hikes. The bill is likely to bring the issue of gig economy workers' rights to the national stage, while potentially launching similar legislation in other states around the country.
What about everyone else impacted by AB 5?
With so much talk about Uber and Lyft, it's worth remembering that AB 5 impacts more than gig workers. The bill would sweep up some workers across industries, from truck drivers and nail technicians to musicians and strippers.
Gonzalez has agreed to leave many workers out. Notably, she has granted exemptions to doctors, insurance agents, real estate agents, hair stylists and barbers who hold booth rental permits, dentists, architects, engineers, and accountants.
She also has been making case-by-case concessions for travel agents, graphic designers, grant writers, and marketing professionals. Newspaper publishers also have sought an industry exemption since many use freelance writers, photographers, editors, and newspaper carriers. The latest version of AB 5 includes an exemption for freelancers as long as they contribute no more than 35 submissions a year.